Holy chip: Vatican introduces swipe cards after 'Vatileaks'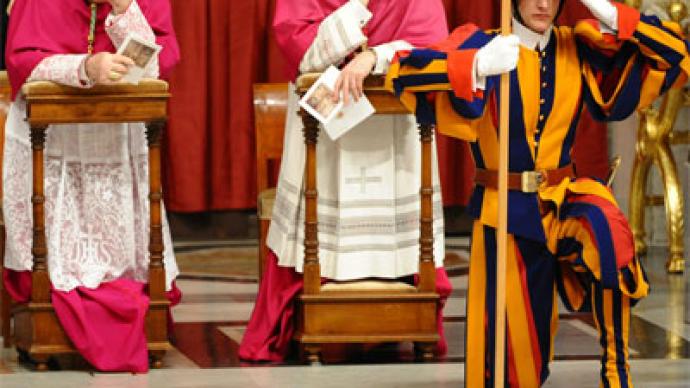 The Holy See is launching a swipe card system to get a better idea of what its employees are doing when they're in the Vatican. But is it a measure to increase efficiency or a means to snoop on workers following the 'Vatileaks' scandal?
Microchips hidden in every card allow Vatican officials to track every person in their clerical and lay employment, this amounts to around 3,000 staff from the Apostolic Palace to the Secretariat of State. Visitors are allowed in by invitation only and have to sign a register, but workers can be casually greeted by a nod of recognition from the guards in their colorful Renaissance uniforms. The system bears little resemblance to the up-to-date measures used in most governmental offices or private companies.It also seems the Vatican has been quite lax about enforcing work hours, relying mainly on the staff's sense of responsibility."When a journalist asked Pope John XXIII how many people work in the Vatican, he replied: 'About half'," writes Robert Mickens, a correspondent for The Tablet daily, who used to work at Vatican Radio. "The Vatican has tried hard to check that people stick to their working hours for years," Mickens said. "At Vatican Radio they introduced electronic badges years ago because people would go for their coffee break and return hours later. So I think that this is more of a case of the Vatican trying to check that its employees do their job than to prevent them from leaking information."Other reports suggest that the swipe card system has been mooted for years, but was only pushed through after the butler scandal. Moreover, it is just one measure to beef up security in the Vatican City.Pope Benedict XVI's new butler is prohibited from carrying out any secretarial tasks, the Daily Telegraph reported. The new butler won't even be sharing an office with the pope's personal secretaries, Monsignor Georg Gaenswein and Monsignor Alfred Xuereb.All this was never the case with former butler Paolo Gabriele, who was convicted of stealing the pontiff's private documents and leaking them to Italian media sources. Gabriele was sentenced to 18 months in jail by a Vatican court, but was pardoned by the Pope this Christmas. Another brick in the new security bastion is appointing anti-espionage expert Mitja Leskovar to oversee coded messages and photocopies, now anyone wishing to get a photocopy has to add their name and what they are copying, to a special register. The registers are then checked by Leskovar, who has been nicknamed 'Monsignor 007'.
You can share this story on social media: