Majority in former Soviet states believe breakup was harmful mistake – poll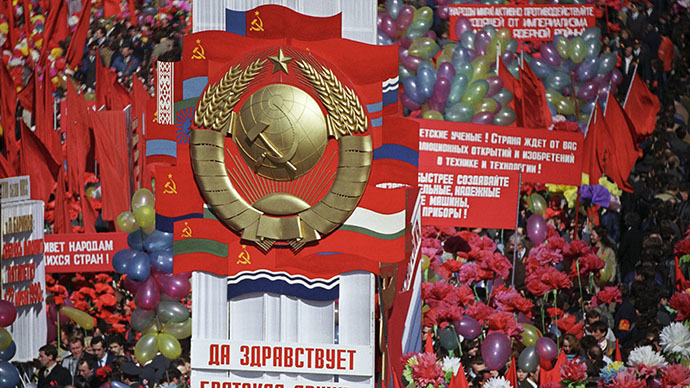 More than two decades after the Soviet Union collapsed a majority of citizens in the independent states believe that the split brought nothing but harm, according to a new Gallup poll.
Gallup a research-based, global performance-management consulting company released a poll conducted in 11 countries of the former Soviet bloc asked participants whether the "breakup of the Soviet Union benefitted or harmed this country?"
Overall statistics revealed that 51 percent of the combined total said that breakup hurt their country's national interest while only 24 percent argued in favor of independence.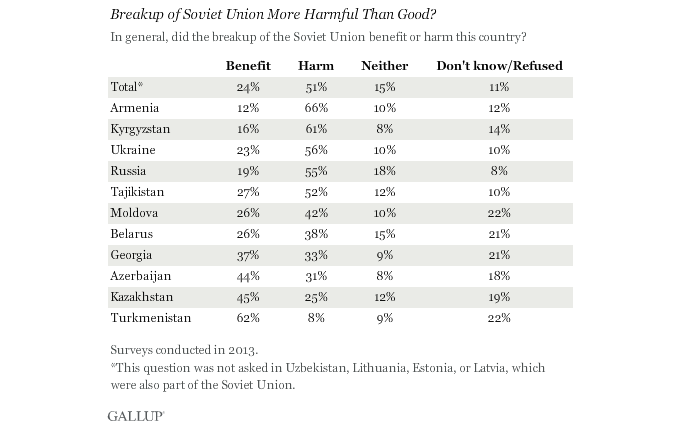 Kazakhstanis, Azerbaijanis and Turkmens are more likely to see benefit than harm from the breakup. In Armenia, Kyrgyzstan, Ukraine, and Russia people answered they see "harm" three times more often than "benefit." In Georgia, the people are more or less split.
The survey also reveals that those who had conscious experience of living in the USSR are nearly three times more prone to say its collapse harmed the country. People under 30 are split on the issue with 33 percent seeing harm and 30 percent – benefit, while 20 percent admit they don't know and refused to answer.

The Gallup study concluded that those with higher education are more likely to accept and support the benefits that came from the split with Moscow, with Kyrgyzstan being the exception.
Those states that have witnessed ongoing conflict, violence or ethnic tensions are likely see greater harm from the collapse of the Soviet Union, the research says.
People who say that "most people" in their home states are afraid to express their political views voted in favor of Soviet conditions, while those who claimed that that "no one" is afraid in their country voted in favour of independence. The figures suggest "the freedom they thought they might have after the fall of the Soviet Union has not materialized," the study claims.
Thirty percent of residents of 11 former republics who believe that future generations have the opportunity to learn and grow see the benefits gained after independence, compared with 18 percent among those who do not see such an opportunity.
"Overall, residents who see opportunities for their children and themselves to succeed are more likely to say the breakup benefited their country than those who do not," the study says.
As for the Russians, 55 percent say it harmed their lifestyle with only 19 percent believing that the collapse improved life.
The Gallup study was based on personal interviews of at least 1,000 people conducted between June and August 2013 in each of the sampling countries, aged 15 and older. Uzbekistan, Lithuania, Estonia and Latvia despite formerly being a part of the Soviet Union were excluded from the polling.
You can share this story on social media: