US backs EU step to arm Syrian rebels, Russia cites intl law against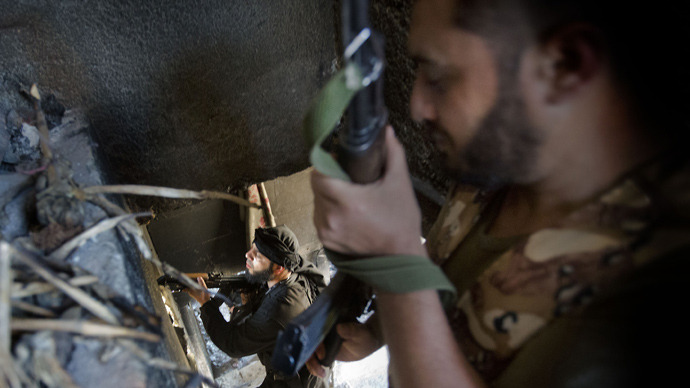 The US has welcomed the EU's decision to lift an arms embargo on Syria, as a show of "full support" for rebels fighting against President Assad. Russia branded the potential shipments as "unlawful".
The State Department has called for an end of the embargo on shipment of arms to rebels, saying that this step "gives the flexibility of specific EU member states to support the opposition as they see fit," acting State Department deputy spokesperson Patrick Ventrell said at the briefing on Tuesday.
At the same time, for President Bashar Assad this should be a message "that support for the opposition is only going to increase", Ventrell said.
As the United States has so far provided only non-lethal aid to Syrian rebels, Ventrell said the new decision "allows others to continue to accelerate that assistance to the opposition."
The State Department has stressed that it will not change its policy based on the EU's decision.
Ventrell reiterated America's position, saying that it opposes Russia selling anti-aircraft missiles to the Assad regime.
"We think that's a mistake. They've described it as fulfilling existing contracts," he said, then assuring that the US government will "continue to work with them [Russia]."
The comments came after Russia criticized the EU lifted its arms embargo, with diplomats branding the move as an "example of double standards". Russia insists that its own sale of arms to the Syrian government may help restrain warmongers.
However, it has neither confirmed, nor denied "the status of those shipments" Russia is carrying out under a contract signed with Syria several years ago.
Moscow has been asserting its right to ship S-300 batteries, maintaining that it does not violate international law.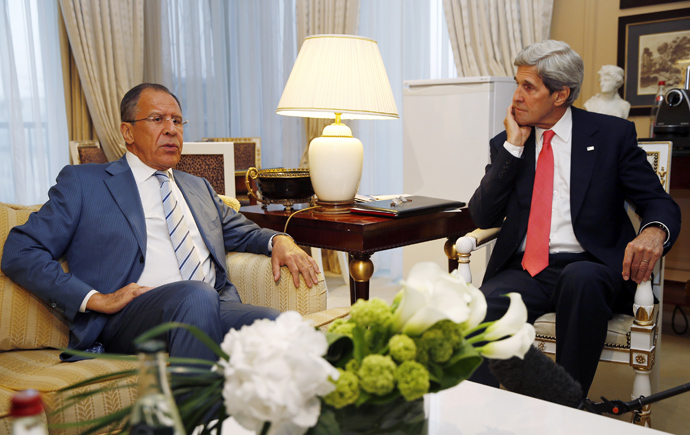 Russia's Foreign Minister Sergey Lavrov lambasted the EU's latest move as "an unlawful" decision.
"This is an unlawful decision, in principle, to discuss seriously on official level the issue of supplying or not supplying arms to non-state actors is contrary to all norms of international law," Lavrov said.
He recalled negotiations on the text of the Global Arms Trade Treaty, which read that "arms should be supplied to governments and only with requirement of an end-user certificate".
"I don't know which end-user certificate the Syrian opposition can give to exporters from Europe," Lavrov added.
The Syrian government has slammed the easing of the EU's embargo as an "obstruction of efforts to resolve the conflict in the country peacefully".
The country's Foreign Ministry has accused the Union of giving "support and encouragement to terrorists by providing them with weapons in clear violation of international law and the UN Charter."
Despite Britain and France having made a commitment not to deliver arms to the Syrian opposition "at this stage," the UK's Foreign Secretary William Hague has not ruled out arming the rebels before August 1, saying that Britain now has the right to do so.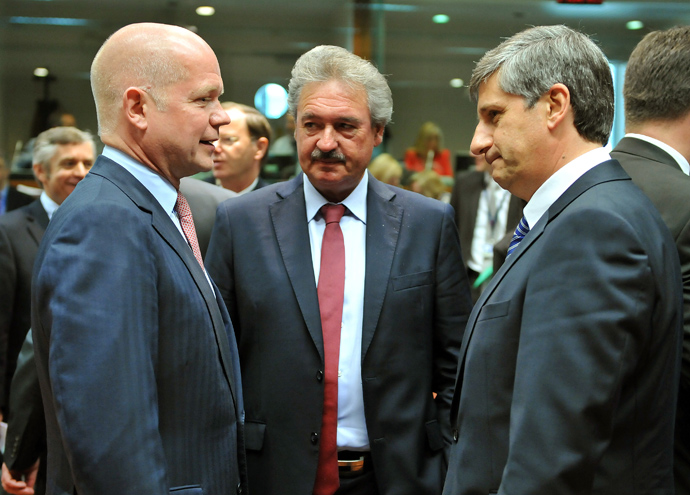 There are opinions that criticize the decision to ease the embargo and predict only more death to come out of the prospect of arming the Syrian opposition. And that also includes the possibility of a dangerous fallout already seen in the aftermath of Afghanistan and Libya, with Western weapons ending up in the hands of terrorists only to be turned against their suppliers. British journalist Neil Clark spoke to RT reiterating those points:
"I think there will be a massive blowback from this because there's no doubt – it's 100 per cent sure – that if  Britain and France send  more weapons into this arena they will end up in the hands of groups like the Al-Nusra Front and Al Qaeda-created groups. And these will come back to be used against British citizens in Britain perhaps and across the world. And so, we've got a real problem here. We've got a British neo-conservative government that's actually lining up on the same side as Al Qaeda and Islamic extremists in Syria."
Meanwhile, Moscow and Washington remain undecided as to the content of a proposed international conference on Syria, according to Deputy Foreign Minister Sergey Ryabkov.
There are fears that nothing will come of the idea at all, if no adequate elements of the Syrian opposition are found to be at the other end of the table to Assad.
A frequent contributor on the subject, Sharmine Narwani, who is a senior associate at Oxford University and blogger for Al Akhbar English in Beirut, spoke to RT, sharing her bewilderment at the confused actions of the US, Britain and France, at a time when the West feels it needs any kind of leverage at all before the proposed conference takes place - all signs that their mission in Syria is not as successful as they had hoped.
"They go into these talks with their side, having no military advantage on the ground. They go into these talks with no sign of the Assad government being replaced [and] with a sense that in fact millions of Syrians do not support this rebellion. So, unless they gain some leverage before these talks they have nothing to push their own agendas."
But despite fears that the Geneva conference will not take place, Narwani is confident that some arrangement will nonetheless materialise, and the reasons are not as obvious as some may think:
"Even if the conference doesn't go ahead as envisioned, this is a critical time and something that is absolutely important that no one is pointing out is that about a year from now, the US military is going to have to unwind and exit Afghanistan. And [they] absolutely need the cooperation and assistance of Russia, China and Iran, to leave with their heads held high and without any lambasting implications of this. And those are the three countries that would like to see the US exit from Syria, so I think there's a grand bargain in the works, regardless of whether the Geneva conference goes ahead."
You can share this story on social media: