Russia slams end of EU arms embargo, calls S-300s 'stabilizing factor' in Syria
The failure of the European Union to agree on a new arms embargo for Syria is undermining the peace process, Moscow says. But the delivery of S-300 surface-to-air missiles may help restrain warmongers.
The comments come from Deputy Russian Foreign Minister Sergey Ryabkov, referring to the results of Monday's meeting in Brussels. After a lengthy negotiating session, EU governments failed to resolve their differences and allowed a ban on arming the Syrian opposition to expire, with France and Britain scoring an apparent victory at the expense of EU unity.
The EU's move, which the Russian diplomat branded as an "example of double standards", opens the door for Britain and France to supply weapons to Syrian rebels fighting the regime of President Bashar Assad.
Criticizing Europe's decision to open the way for potential arms shipments to Syrian rebels, Russia insists that its own sale of arms to the Syrian government helps the international effort to end the two-year-long conflict, the diplomat added. He was referring to the delivery of the advanced S-300 long-range air defense systems, which Russia is carrying out under a contract signed with Syria several years ago.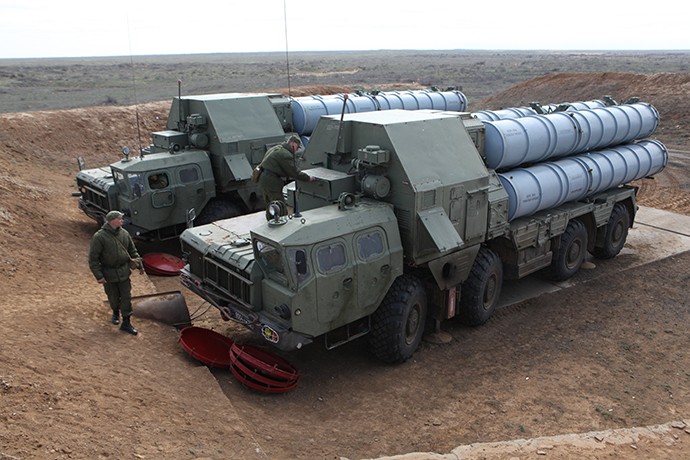 "Those systems by definition cannot be used by militant groups on the battlefield," Ryabkov said. "We consider this delivery a factor of stabilization. We believe that moves like this one to a great degree restrain some hotheads from escalating the conflict to the international scale, from involving external forces."
The S-300 is a series of Russian long-range surface-to-air missile systems designed to intercept ballistic missiles, regarded as the most potent weaponry of its class. The missiles are capable of engaging aerial targets as far away as 200km, depending on the version used.
However, Russia has neither confirmed, nor denied "the status of those shipments."

"The only thing I can tell is that we are not refusing from them," Sergey Ryabkov said. "We see that this question worries our partners, but we have no reason to reconsider our position in this sphere," he said.
Despite the uncertainty around S-300 shipments, Israel said it will know how to act if Russia does supply surface-to-air missiles.
"I can say that the shipments are not on their way yet," Defense Minister Moshe Yaalon told reporters. "I hope they will not leave, and if, God forbid, they reach Syria, we will know what to do," he said, without disclosing his sources.
Israel is concerned by possible Russian supplies to Syria, saying that advanced weapon systems could end up in the hands of Iran or the Lebanese Hezbollah group.
Once the Russian SAM missiles are deployed by Syria, it will have a better control of its airspace. The country endured three airstrikes this year, which are widely thought to have been conducted by Israel, but were never officially confirmed as such.
Britain and France have made a commitment not to deliver arms to the Syrian opposition "at this stage," an EU declaration said. EU officials, however, said the commitment effectively expires on August 1.
However, UK Foreign Secretary William Hague has stressed that Britain may start arming the rebels before an August 1, saying that it has a right to do so from now on. At the same time, he noted that Britain would only send arms to Syrian rebels with other countries and not in violation of international law.

London and Paris have argued support for rebels fighting Assad by allowing EU arms deliveries, despite the fact that extremist elements are known to work alongside the rebels.

Other EU governments, led by Austria and Sweden, argued that sending more weapons to the region would increase violence and spread instability.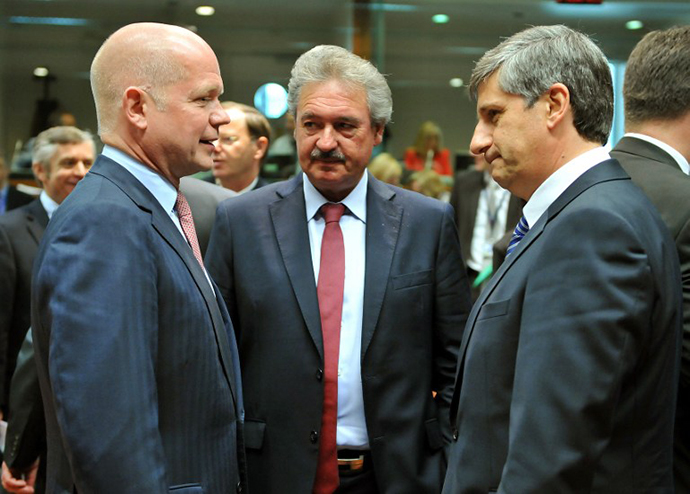 Russia's envoy to NATO Aleksandr Grushko said that the abolition of the EU arms embargo on the Syrian opposition will only exacerbate armed conflict in that country.
"We need to refrain from taking steps that would be contrary to this logic. Such steps include armed or non-lethal support to the opposition. This just adds fuel to the fire," Grushko said on Tuesday.
Meanwhile, Moscow and Washington remain undecided as to the content of a proposed international conference on Syria, according to Deputy Foreign Minister Sergey Ryabkov.
"There remains a gap between the positions of Russia and the US regarding some issues and aspects of this major international crisis," he emphasized.
"And we, for our part, cannot agree to hold such events [the international conference on Syria] amid a situation where partners and possible participants in such a conference seek to impose solutions on the Syrian people from the outside, as well as predetermine the course of a transitional process, the parameters of which have not been determined yet," Ryabkov said.
You can share this story on social media: