Syria in the firing line? US deploys covert mission to Jordan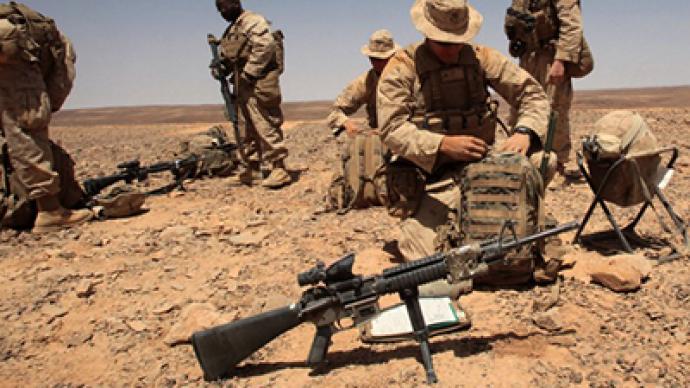 A covert task force was sent to Jordan in case Syria loses control of its chemical weapons, US officials said. The team will be stationed at a base 35 miles from the Syrian border, making it the US military's closest presence to the embattled nation.
A 150-member team of planners and other military specialists was covertly deployed in Jordan to aid the country's army with the influx of refugees across its tumultuous border with Syria, US officials told the New York Times. In addition to helping manage the 180,000 Syrian refugees estimated to have fled across the border, the task force will also reportedly weigh measures like establishing a border buffer zone and a humanitarian corridor.The US personnel will be based in a training center north of the city of Amman, close to Syria's southern border. The facility will become the US military's foothold nearest to Syria, and could be used to launch an intervention if Washington changes its stance in the conflict.Both Washington and the Jordanian government declined to comment on the covert operation.Although the Obama administration's officially opposes military intervention in Syria, Washington has pledged to supply 'non-military' aid to opposition forces and has been actively pushing for the removal of President Bashar al-Assad.The US has previously used Jordan as a base for other Syria-related military activities. In May of this year, Washington held military drills in Jordan dubbed 'Operation Eager Lion,' which saw around 12,000 troops from several nations participate in undisclosed training exercises.The Obama administration denied accusations in the Syrian media that the exercises were a threat against President Assad, and maintained that the action focused on the treatment of refugees, anti-terrorism tactics and naval interception of smuggling vessels.Following the operation, a small US contingent stayed behind to establish the center in Amman, paving the way for the arrival of more personnel."We have been working closely with our Jordanian partners on a variety of issues related to Syria for some time now," Pentagon Press Secretary George Little said. Citing Washington's concern over Syria's stockpiles of chemical and biological weapons, he said that the US has been planning "various contingencies, both unilaterally and with our regional partners."The Syrian conflict took an unexpected turn last week when mortar fire struck across the border at neighboring Turkey, sparking outcry from the Turkish government who subsequently returned fire. Turkey deployed 25 new F-16 fighter jets to reinforce its borders this week as NATO pledged support if the conflict spills into the country again.Since uprisings against the embattled President Assad began last year, the UN estimated that more than 20,000 people were killed in the conflict and some 700,000 fled Syria to seek refuge in neighboring countries.
You can share this story on social media: