Syria FM: Some UN Council members supporting terrorism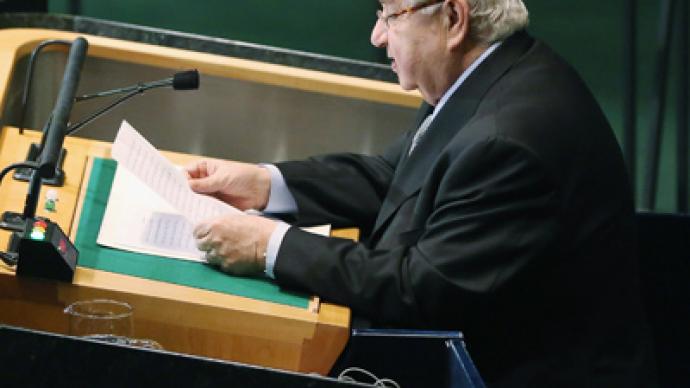 Syrian Foreign Minister Walid al-Moallem slammed some UN Security Council members during his speech at the General Assembly Monday, accusing them of supporting "terrorism'' in his country.
In his initial comments, he said that "some well-known countries" are pursuing "new colonial policies" in Syria under the guise of humanitarian efforts.
Al-Moallem went on to add that peace requires action not only by Syria but by Turkey, Saudi Arabia, Qatar, Libya and others to stop arming and financing the opposition.
The Syrian Foreign Minister slammed calls for President Bashar al-Assad to step down, calling them "blatant interference" in the country's domestic affairs.
"We heard calls from this podium, and on other platforms, some calls from those who are ignorant of the facts or maybe ignoring them, or also from those who are shareholders in exacerbating them, that invites the President of the Syrian Arab Republic to step down,'' he said. "This is a blatant interference in the domestic affairs of Syria, and the unity of its people and its sovereignty."
He also called for the opposition to put down its arms and settle the more-than-a-year long conflict through dialogue with the government, "in order to stop spilling Syrian blood."
The Syrian civil war began in March 2011, and according to UN data, has claimed the lives of 20,000 people, most of them civilians. Hundreds of thousands of Syrians have fled the country since the uprising started.
­
Foreign mercenary presence
­Some reports have said that there is a heavy foreign mercenary presence operating in the Syrian conflict on behalf of the opposition.

"I don't know about the numbers, but I'm pretty sure from all the YouTube videos taken by the rebels themselves that were posted on opposition pages, Facebook and elsewhere, you can tell from the accent of those rebels. They have different accents, some different countries in the Arab world, mainly Libyans and Yemenis, different nationalities. Much less can you hear Syrian rebels, especially those videos where you see pro-regime [soldiers] slaughtered by those terrorists," political analyst Roula Talj told RT from Beirut.

Several nations called for a cessation of hostilities in Syria at the UN General Assembly proceedings in New York. However, there has been disagreement on how to stop the bloodshed, with the US, France, Turkey, as well as Saudi Arabia and Qatar calling for the complete removal of President Bashar al-Assad.
"Each country of this bloc against Assad has its own agenda. I'm pretty sure that the West would like to dismantle the region, and it's Henry Kissinger's plan back on the table. One has to divide the region into little sectarian entities, which eventually in the long term would secure Israel's interest and security in the region. Also, it's a war for the West to control and implement its military bases in the region in order to control the new bloc of power that we all know; China, Russia, and some other countries," Talj said.
"However, the Saudis and the Qataris, they are playing Russian roulette by endorsing those Mujahideen they once endorsed against the Soviet Union," she said.
"It's not a goodwill endorsement. They don't want to implement freedoms and democracy, because if they wanted to do so, they should have started in their own countries, especially in Saudi Arabia."