US suspends Afghan training in attempt to stem 'green-on-blue' killings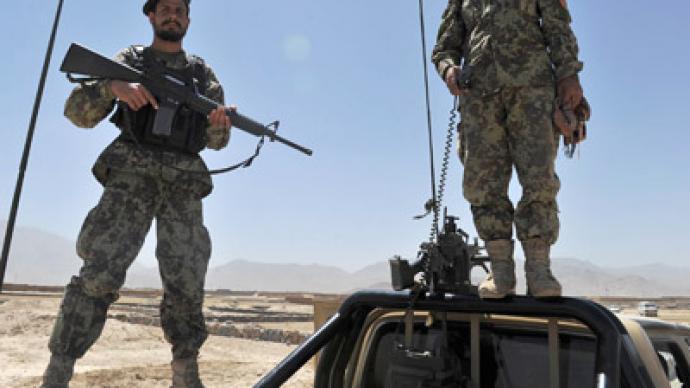 The US military has ceased training Afghan recruits until all soldiers have been investigated for insurgent ties. The action aims to curtail rogue Afghan attacks against NATO soldiers, which have killed at least 45 since the beginning of the year.
More than 27,000 Afghan recruits will be investigated, a special operations official told the Washington Post. The move comes in response to an escalation of Afghan attacks on their US counterparts, known as 'green-on-blue' killings.
"We have a very good vetting process," the official said. "What we learned is that you just can't take it for granted. We probably should have had a mechanism to follow up with recruits from the beginning."
The official, speaking on condition of anonymity, claimed that NATO cut corners during vetting procedures in an attempt to train as many Afghan troops as possible.
"Everyone admits there was a lot of international pressure to grow these forces, and the vetting of these individuals was cast aside as an inhibitor," he said, adding that the loose regulations meant that Afghan recruits who lacked proper credentials were not questioned, and often passed under the radar.
Following a meeting in Afghanistan last week of the most senior security officials in the country, Kabul announced that it would screen the files of 350,000 policemen and soldiers in an attempt to identify moles and infiltrators.
Afghan security forces had been infiltrated by "foreign spy agencies," a government spokesperson said.
Special operations officials have estimated that the re-vetting of all Afghan recruits could take as long as two months, and that the training of new recruits will be halted for around a month.
The spike in green-on-blue violence has been a bone of contention for NATO-led forces in Afghanistan, making up almost 15 percent of this year's coalition fatalities.  In response, NATO is reportedly weighing a number of methods to identify insurgents in the ranks of Afghan recruits.
On Thursday, the latest spate of green-on-blue killings saw three Australian troops shot dead at close range by an Afghan National Army sergeant on a military base in the southern region of the country.

­
A cause for 'deep concern'
Barack Obama voiced "deep concern" over the escalation of violence ahead of the planned withdrawal of US troops in 2014.
"We are transitioning to Afghan security, and for us to train them effectively we are in much closer contact – our troops are in much closer contact with Afghan troops on an ongoing basis," the President said, adding that US soldiers should not be made more vulnerable than they already are.
In August, the current head of the Taliban, Mullah Mohammed Omar, said that members of the terrorist organization had infiltrated the Afghan security forces and were carrying out "coordinated attacks." He urged his followers to increase their attacks on NATO soldiers.
The US-led coalition forces are currently training Afghan recruits in hopes of establishing a law enforcement body that can take over security responsibilities in 2014.
Robert Naiman, policy director at Just Foreign Policy, believes the most striking aspect of the admission is that US and NATO authorities knew their vetting procedures weren't being followed all these years.

"It's a spectacular admission," he remarked to RT. "It begs the question of why they didn't make the changes before. Finally the problem grew to such a spectacular stage that they could no longer ignore it."

He also noted several reasons for the rise in the number of green-on-blue attacks in the recent months.

"First of all, as they admit, they've been adding people to those forces without vetting them; secondly, because there's greater proximity; and third, because there's greater stress on both the Afghan soldiers and police and on the US forces," he said.

Provocative behavior by American forces was also a major factor. He examined the reasons for the increasingly troubling incidents involving US troops.

"If you look at public opinion polls in the United States, people have given up on this war a long time ago," he noted. "That has got to have an effect on the morale of the troops. That's going to affect their behavior. That's going to make it more likely that they behave in more provocative ways. That's going to make retaliation more likely."