DEFCON 4! US spy chief to make splash at hacker conference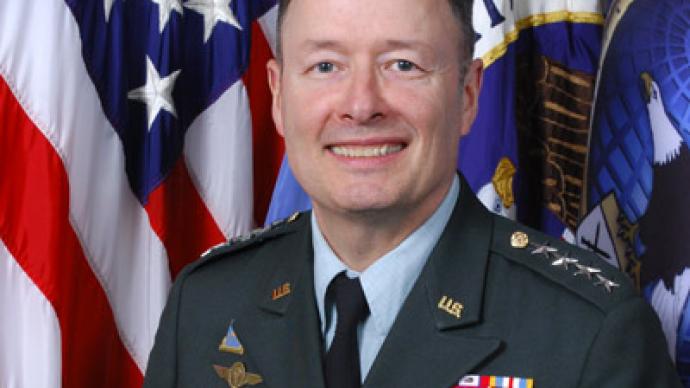 Computer geeks planning to attend the world's largest annual hacking party in Las Vegas next week will have a rare chance to talk to the head of the US National Security Agency – the first such high-ranking official to attend ever.
General Keith Alexander, the NSA director who is also in charge of the US Cyber Command, will speak at the Defcon conference, marking the highest-level visit to date by a US government official to such a gathering."We're going to show him the conference. He wants to wander around," Reuters quotes Jeff Moss, a hacker who organized the first Defcon conference 20 years ago, as saying.  Moss now sits on an advisory committee to the Department of Homeland Security.Still, Moss said he expects there could be some controversy over Alexander's presence among the diverse hacker crowd that attends the conference."I expect some people will say 'You are a sellout for having someone from the NSA speak," he added, but then explained he believes it is important to hear what the most senior person at the NSA has to say. It might, however, seem strange what NSA has to do with this event. Especially taking into account that Keith Alexander also heads Cyber Command and is behind the proposed law to protect the country from cyber-attacks potentially being directed by some of those in attendance.  But many computer security professionals, journalists, lawyers, federal government employees, crackers, cyber-criminals, security researchers, and hackers with a general interest in computer code, computer architecture, phone phreaking, hardware modification, and anything else that can be "hacked" will make an appearance, all with their own politics and agendas. Many are frequently asked by different state entities to apply their skills for homeland security. This year organizers expect some 15,000 hackers to show up as they celebrate the 20th anniversary of the first US hacking event that was open to the public.Started in 1992 by the Dark Tangent, Defcon remains the world's longest running and largest underground hacking gathering.Hackers come to the conference to exchange information about tools of the trade, socialize and compete in hacking contests.Among the topics to be discussed include attacking mobile phones and Google TV, more technical discussions on programming and discussions about government surveillance.
You can share this story on social media: