US, Russian astronauts take new trajectory to dock the ISS
The crew of two Russians and an American has successfully blasted off into space. Despite the diplomatic skirmish on the ground, the greatest problems faced by the international Soyuz team are dozens of experiments to be done – and missing loved ones.
The spacecraft with its Russian-American crew on board that earlier blasted off into space has successfully performed two maneuvers to enter a new trajectory of docking with the ISS after a glitch during the first attempt.
The Soyuz TMA-12M spacecraft set off from the Baikonur Cosmodrome in Kazakhstan at 21:17 GMT on Tuesday. It was supposed to use a short six-hour route to the International Space Station, but mission control has decided to revert to a standard two-day flight.
"We have decided to bring the spacecraft to the ISS not according to the six-hour sequence, but a two-day one. Therefore, the docking will take place March 28," a mission control representative told Interfax.
Just saw the Soyuz launch from station. Great view. In 6 hours we will have new crew members. pic.twitter.com/QDqsZmhbkh

— Rick Mastracchio (@AstroRM) March 25, 2014
Initially, the automatic docking was scheduled to take place at 03:04 GMT Wednesday. But due to errors in orientation system of the spacecraft, the Soyuz capsule's skipped a planned steering maneuver, according to the president of the Energia Rocket and Space Corporation, Vitaly Lopota.
"The crew is in no danger. The Soyuz is equipped with plenty of consumables to go even beyond the next two days, should that be become necessary. Nobody expects that that will be the case," mission commentator Rob Navias said during a NASA television broadcast.
Friends in space
Hours before Expedition 39 to the International Space Station starts its express journey into orbit from Kazakhstan, the crew of three – Russia's Aleksandr Skvortsov and Oleg Artemyev, and NASA's Steven Swanson – shared their pre-flight thoughts, hopes and concerns.
Despite the diplomatic skirmish on the ground, the greatest problems faced by the international Soyuz team are dozens of experiments to be done – and missing loved ones. The press briefing could be rightfully named as one of the few international events with absolutely no political pressure involved.
Indeed, the astronauts never get tired of saying that in a situation when one's life depends on the work of others, all politics is set aside. But what challenges do even the most tested professionals face 220 miles above their home and what do they bring on their journey to cope with homesickness?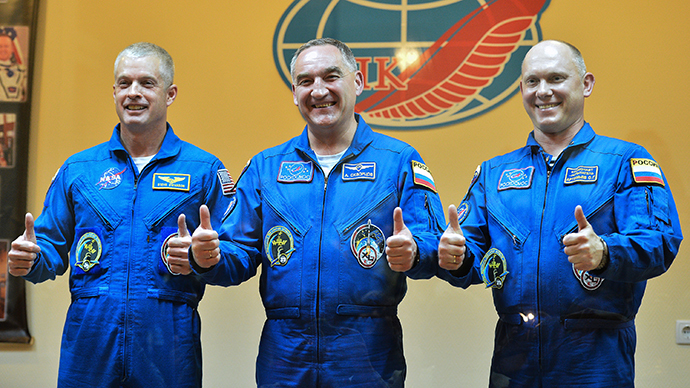 "I will mainly take photographs and letters with me. All my relatives have been writing messages to me so I could have a new one every day. I will open an envelope at the end of each day and read what's in it," flight engineer Artemyev has shared.
For commander Skvortsov, the mission will mark the second time he celebrates a birthday in space – but for him, that makes it no less special.
"I had my 44th birthday party in orbit, and this time I will celebrate my 48th birthday up there too. It has become a kind of tradition by now. When I turned 44 the first thing I saw in the morning was a Birthday card from the American crew members. It is a gift I treasure very much and I keep it," Skvortsov said.
He then went on to joke that even that modest celebration did not interrupt the scientific observations of the team, saying that balloons inflated with nitrogen "actually served as a good indicator of the cabin pressure."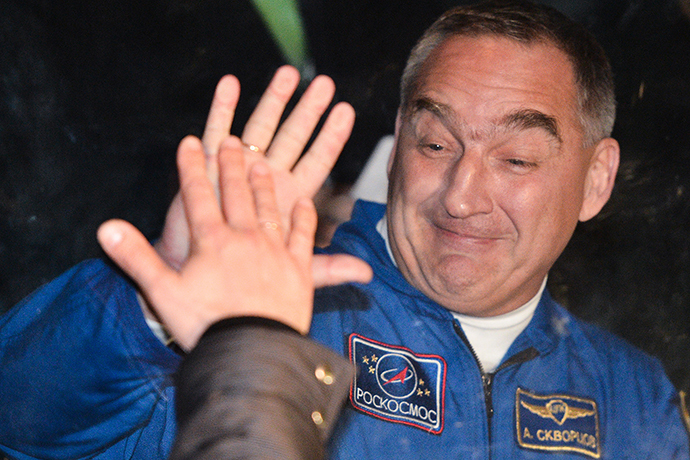 At the ISS, the work truly never stops, with the new crew bringing at least 50 experiments to be set up at the station. Many more are in progress.
"We have over 170 experiments going on, we've been trained in a lot of them. They vary, of course, to ones we don't even touch, to ones that we are the technical operator on but we don't do anything but start them up and get them set to go. And there are ones we are the actual subjects for," Swanson, a computer software expert and engineer, has explained.
Swanson, who is already a veteran of two shuttle missions, will take over as commander of Expedition 40, and says that "looking more at the big picture… how we're going to operate as a team" will be his task as the future head of the crew.
Unlike the NASA astronaut who has already had his share of spacewalks and is looking to concentrate on experiments, Artemyev is extremely excited about his first-ever experience of space.
"I've been preparing for this mission for 11 years now. Now, I'm like that horse leaving the stable who really wants to race! So I'm interested in everything that I will be doing in my new home," the Russian flight engineer said.
He added that he is particularly anticipating seeing in person the station's Zvezda module that he actually helped build.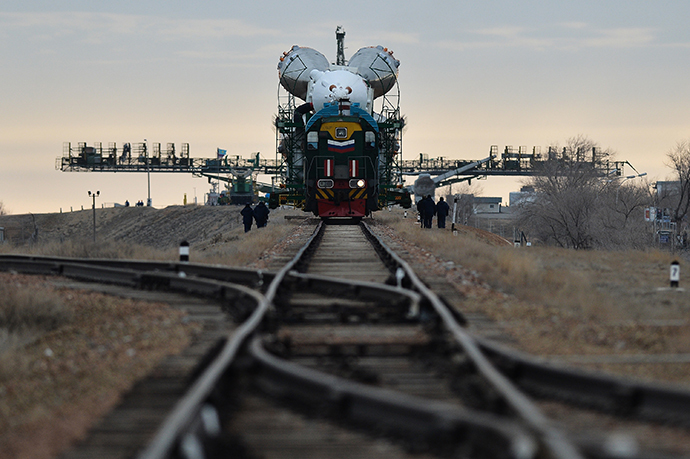 Artemyev admits, that "the hardest thing by far" is not the tasks they have been trained for, but being separated from the families and friends.
"I can tell you for sure that the part we all miss the most is our family and being far away from family and friends and loved ones. That's the hardest thing we do, the feeling that you cannot be with your family or, God forbid, if something happens, you cannot do something for them, you cannot be by their side," Artemyev said.
And the political crisis?
"I think people lose track of the fact that we have occupied the International Space Station now for 13 consecutive years uninterrupted, and that has been through multiple international crises," NASA Administrator Charles Bolden said earlier in March.