US forgot its promises but Russia remembers – former Palestinian FM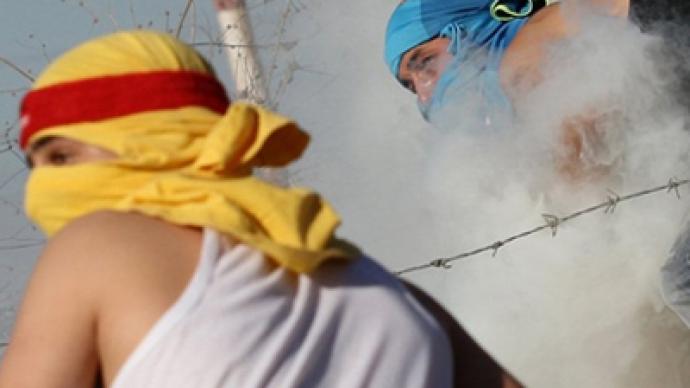 After the failure of the latest direct peace talks in the Middle East, Palestinians have been advancing their attempts to gain independence from Israel by calling on the international community to recognize its sovereignty.
Nabil Shaath, a member of the Fatah Central Committee in charge of international relations and also the former Palestinian Foreign Minister, says the prospects for a Palestinian state are vague unless Israel and the US start to fulfill their peace process obligations.RT: Let us first ask you about George Mitchell's [US Special Envoy for Middle East Peace under the Obama administration] recent visit to the Middle East, and later we will talk about your current visit to Russia. What did the US Special Envoy bring with him that was new?Nabil Shaath: He brought with him their sense of loss. They tried to convince Netanyahu to stop further occupation through building new settlements, the Gaza blockade, to stop the measures they are taking in Jerusalem. But the Americans failed to do this. They admit it and now put more pressure on us, trying to bring us back to the negotiating table. However, they promised to continue the bilateral contact with us and Israel. George Mitchell really brought nothing new, nothing specific.We would like to participate in serious talks which would put a stop to the occupation and lead to the establishment of an independent Palestinian state. But the talks with Netanyahu don't inspire much hope.The international regulatory framework is being ignored, everything that has been achieved in the last 19 years is being denied. Israel is continuing the talks, but at the same time building new settlements, expanding the occupation zone. It's cheating – there is no other word for it. And we told Mr. Mitchell about this. We are not the problem. We are "for" the peace process, "for" the settlement based on the 1967 borders, "for" resistance without violence. However the current talks are just a cover up for building more settlements. We cannot agree to that. Are we supposed to start the talks from the very beginning, canceling out everything that has been done in the last 19 years? It's impossible.RT: Do you think the US' refusal to pressure Israel, especially in the area of building new settlements, means that the White House refuses to fulfill its obligations towards the Palestinian leadership?NS: That is exactly what it is. We asked them, "What will you tell us in the future? You were a co-sponsor of the peace process; your signature is under all the treaties, including the Oslo Accords."Yes, the treaty was drawn up in Oslo, but it was signed in the White House, in Washington. You all witnessed it. You demanded that we would fulfill certain obligations. And we did. Then you adopted the Road Map plan, which was supposed to be binding for all sides involved. We fulfilled all the obligations under this plan as well. Israel fulfilled none of their obligations. Today you are saying that you are not able to fulfill what you promised and sponsored. How can we now believe that you will help the fulfillment of obligations which will be worked out in the coming talks?So trust has been broken. The issue of Israel's settlement activities is a very important issue in and of itself. At the same time it is also important, because it is an example of irresponsible behavior during the peace process.RT: President Mahmoud Abbas and the Palestinian leadership insist on a peaceful solution. Do you think that Israel with its current leadership is ready to give Palestinians their rights back?NS: Of course not. We said this to the Americans and the whole world. We told them about what was happening during the talks, what was happening on occupied territories. That's why Netanyahu uses the current government as an excuse, saying he cannot make a decision under this government. But he will be able to do that if he reforms the government, removes Liberman and puts in the government somebody from the Kadima party, which has twice as many votes as Liberman's supporters. But he doesn't want that. He uses it as an excuse to cover for all his actions. We know this for sure. But it doesn't mean that we think that he will never change his stance. Governments change. It has already happened before. When we started the peace process, and the US was serious about promoting it and established the Madrid Conference, Shamir had the same stance Netanyahu has now.RT: So you are saying that in the current situation the PLO has resistance on its agenda?NS: All Constitutional choices are possible. And the Constitution gives every nation, whose land was occupied by another state, the right to fight with weapons against the armed occupation. Therefore our rights should not become an issue while we focus on military targets, not striking civilians, in accordance with the Constitution. Hamas admitted that in response to the Goldstone Commission Report, they launched several missiles at Israel and then apologized for the civilian casualties, saying it was because of an aiming error. We, Fatah, have said from the very beginning and keep saying that we target military objects only. In the 20 years of combat we have lost a lot of people, and the decision to return to combat during the Intifada was made by the leadership and supported by the people. After that it became obvious that there are other more effective ways to fight in order to reach the goals we have set.RT: We know that the Palestinian leadership has prepared a draft that will be presented to the UN Security Council, in order to condemn Israel for its settlement activity. If the US uses its right to veto, what will the Palestinian leadership do?NS: International law allows for a wide range of actions. We have structures, through which we can take a number of measures. If the US rejects this solution, we will turn to the UN General Assembly. The General Assembly uses the "uniting for peace" formula, which allows it to act in the same way as the UN Security Council, using a number of measures to make sure its decisions are carried through. There are international tribunals, through which Israeli military commanders, who committed crimes in our country, could be prosecuted. There have been a lot of those crimes. There is a group of countries that signed the Fourth Geneva Convention, these countries can use sanctions against Israel, forcing it to make a certain decision. But I don't think the US will use its right to veto in the face of the other 14 UN Security Council members. Based on what? Earlier the US agreed with 15 resolutions, aiming at the settlement activities in Jerusalem. It voted for ten of these decisions and abstained in five cases, so we have 15 precedents altogether. Besides, the phrasing of our draft is very similar to that of Obama's statements on this issue. It says that construction of settlements should be stopped everywhere, including the regions where it is justified by the natural increase in population. It is as if the US was saying, "We want to stop the settlement activities, but we can't". If you can't help us, what are we supposed to do? Rely on Allah? It shouldn't be this way.RT: During your visit to Russia you had a number of meetings with Russian leaders. Did you hear anything new in Moscow?NS: All new things are in essence old things, because the US forgot a lot of these old things, but Russia remembers. Russia recognized the independent Palestinian state in 1988, with the 1967 borders and with its capital in Jerusalem. And it never denied that decision. We have an embassy in Moscow; it has the same rights as embassies of other countries. And when President Medvedev was in Cairo, addressing the Arab League, he clearly confirmed this recognition. Russia's stance on Israeli settlements is firm and has not changed. The Russian foreign ministry lets us know that when we come to the UN Security Council with the demand to stop the settlements, Russia will support us and try to convince other countries to make this decision and influence the US so that it doesn't use its right to veto. Russia is flexible when it comes to other countries recognizing the Palestinian state on the 1967 borders. We continue to work together with Russia in different areas of culture, economy and women 's rights. During the foreign minister's visit we signed a number of agreements. Russia voiced its stance on Palestinian prisoners of war, saying that they should be freed. The foreign minister also met with Fadwa Barghouti, the wife of Marwan Barghouti, an imprisoned Palestinian fighter for independence. That proves Russia will continue to strive for his release. In other words, many things show that Russia is serious about its intentions; it keeps reminding the world about the decisions that have been made before, but are now forgotten. So at this point Russia supports Palestinians.
You can share this story on social media: