'Mistakes made': Pentagon 'regrets' slaughter of 24 Pakistani troops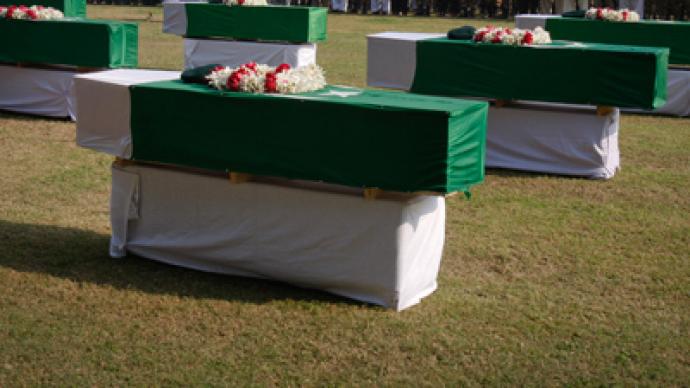 The Pentagon has expressed 'deepest regret' for a deadly attack on Pakistani troops, saying mistakes led to the air strike that claimed 24 lives.
At a press conference on the findings of an investigation into the incident, a Pentagon spokesman said the attack was the result of a misunderstanding."Inadequate coordination by US and Pakistani military officers" and "incorrect mapping information" led to the deadly attack. "This, coupled with other gaps in information about the activities and placements of units from both sides, contributed to the tragic result," the Pentagon statement said.The investigation concluded that American troops thought they were under attack and responded "appropriately".The results of the investigation into the November 25-26 attack on Pakistani military forces has been shared with the Pakistani and Afghan governments, as well as "key NATO leadership", according to a US Department of Defense statement released Thursday.The statement also went on to express US officials' regret over the attack."For the loss of life – and for the lack of proper coordination between U.S. and Pakistani forces that contributed to those losses – we express our deepest regret. We further express sincere condolences to the Pakistani people, to the Pakistani government, and most importantly, to the families of the Pakistani soldiers who were killed or wounded."The statement further read that "corrective measures" would be required in order to prevent a repeat of the incident. Stating that US security operations in the region were hindered by a lack of mutual trust, the Pentagon called on the Pakistani military "to join us in bridging the gap."The apology comes amid a drive to salvage American relations with Pakistan, as series of CIA drone attacks have killed between 391 and 780 civilians – including 160 children – since May 2010, the Bureau of Investigative Journalism reports.  The Pakistani public was further enraged when a CIA contractor shot two men dead in the city of Lahore in January.  That scandal was followed by the covert Navy SEAL operation that killed Osama Bin Laden in May, and comments by US Defense Secretary Leon Panetta that Pakistan had provided shelter to terrorists who carried out attacks on Americans in Pakistan.Tensions boiled over on November 25, when NATO forces assaulted a Pakistani checkpoint on the border with Afghanistan. The attack outraged Pakistan's authorities, who retaliated by blocking a NATO supply channel to Afghanistan.
You can share this story on social media: