US taking covert steps to cripple Syria's Assad - newspaper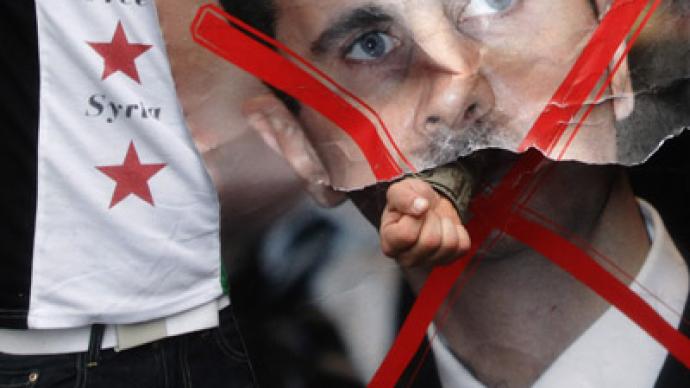 The US government has made repeated covert attempts to block arms and oil shipments to Syria, the Wall Street Journal reports. Officials said Washington also provided rebel forces with key military intelligence against President Bashar al-Assad.
The WSJ cites unnamed government officials in its report, which claims that the US has tried to coerce Iraq into blocking flights crossing through its airspace that are suspected of carrying weapons and supplies to the Assad government.
In addition, US intelligence agencies have moved to block ships believed to be transporting military equipment to Syria from traversing the Suez Canal.
Washington has recently intensified its covert efforts against Syria, in line with its stated aim of removing of President Bashar Assad.
"There is a renewed effort to crack down in any way possible," a US official told the WSJ, referencing Washington's plan to control transit on the Suez Canal.
Officials stated that Washington had been feeding key intelligence, including satellite imagery, to the Turkish and Jordanian militaries, which support the Syrian rebel army.
There were also reports of the CIA coordinating and sharing intelligence with certain Syrian opposition groups.
The WSJ report cites the US troop withdrawal from Iraq in November of last year as the strategic opening for a possible arms supply route into Syria. The CIA tracked 76 cargo flights from Iran crossing Iraqi airspace en route to Syria in January and February.
The CIA claimed that the Iranian and Syrian governments disguised the alleged military equipment as farming materials and cut flowers.
Skepticism in the ranks
The report refers to certain figures in the US government who thought the covert measures were "limited," and did not go far enough to curtail the Syrian government's military capabilities.
Washington faces continued calls from Syrian opposition groups to increase pressure on the Assad regime.
"The Americans say to us that they have allowed the regional players to help us, but if they think this is an achievement… then they should know this is weak and inadequate support," Louay Mokdad of the rebel Free Syrian Army told WSJ.
Washington said that it was actively consulting with Syria's neighbors and members of the international community to ensure the security of Syria's chemical weapons stockpile."There are a variety of ways that a government or individuals can be held accountable for this kind of behavior that would result in the deliberate release of chemical weapons or use of chemical weapons," said White House spokesperson James Carney on Sunday.
Carney did not elaborate on the nature of possible measures to be taken against the Syrian government.
Meanwhile, violence continues to escalate amid reports of skirmishes between government forces and rebels in Damascus and the industrial hub of Aleppo.
You can share this story on social media: