'Ready-to-quit' Assad sparks media rumor frenzy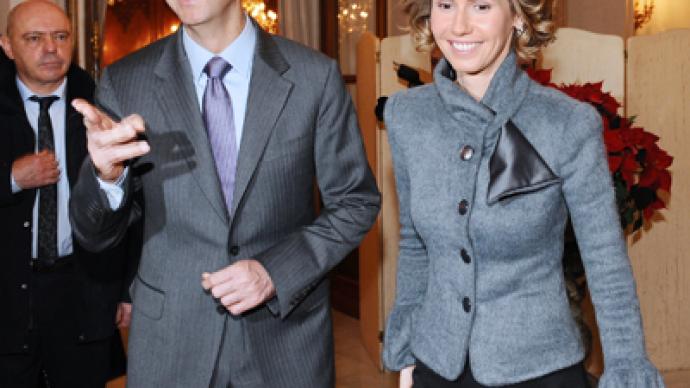 Bashar Assad is ready to leave power, while his wife Asma has fled to Russia - these are just some of the rumors circulating amid the Syrian conflict, as it enters a new stage. Russia has called on the media not to fall into "disinformation traps".
­On Friday morning, Russian Ambassador to France Aleksandr Orlov gave an interview to French radio station RFI. In it, he said that following recent talks in Geneva, the Syrian President is "ready for negotiations. He is prepared to hand over power, but in a civilized manner."
Orlov then claimed "I believe it will be difficult for Assad to stay in power."
A hungry news media pounced on the interview, which was seen as a major shift in Russia's stance. Previously, Moscow had insisted that Assad shouldn't necessarily be forced to hand over power – and definitely not ahead of any transition negotiations.
Russia's Foreign Ministry was immediately forced into making a statement.
"The ambassador's words were misinterpreted, and pulled out of context," said the ministry's twitter account.
"The Syrian people are the only ones who can decide on the future of the Syrian Arab Republic, including the fate of its leaders. This is clearly stated in the Geneva declaration adopted on June 30."

Orlov also clarified his comments, saying that he felt that Assad may be prepared to quit, but only "as a result of negotiations."

This closely matches Syria's own position. Assad gave an interview last week in which he said that he was prepared to sit down and talk with the rebels, and step down if he no longer has the "confidence of his people."
Another widely reported story claims that Asma Assad, Syria's first lady, who holds British citizenship, left for Moscow in the wake of the explosion that killed Syria's top security officials.
"I believe this is a mendacious disinformation trap," an indignant Aleksandr Lukashevich, a senior Russian Foreign Ministry representative, told journalists during a Q&A session. "I advise you not to fall into it."
­
Fog of war fuels rumor machine
Together with China, Russia has played a major part in opposing the West's position regarding the civil war in Syria, which has killed more than 16,000 since breaking out in 2011. Many in the Western media tie Russia's position to Assad's future. There is little doubt that during a recent upsurge in fighting around Syria's capital, journalists are looking for signs that the situation is shifting.
Another problem appears to be a lack of information from Damascus itself. A lack of a comprehensive descriptions of the circumstances of the explosion that killed Assad's top lieutenants on Wednesday has given birth to outlandish rumors, including speculation that the ministers were poisoned by Assad himself.
Another rumor claims that Assad was wounded in another rebel attack. The rumor gained currency when Assad did not make a public appearance in the immediate aftermath of Wednesday's blast, but was quickly dispelled when he swore in the new Defense Minister on TV.
Even Assad's physical whereabouts have not been established, as some believe he has left his residence in Damascus to go to the Alawite stronghold of Latakia, where he enjoys the greatest support.
As the world press' insistent gaze seeks exclusives while being multiplied by scant information, it is likely that these rumors will persist and grow as long as fighting continues in Syria.
'Assad represents Syrian sovereignty'
President Bashar al-Assad is a symbol of Syrian sovereignty, and if he leaves or is removed from power the country could plunge into chaos, Syrian activist and blogger Mimi al-Laham told RT.
"Even as not being a government supporter, Assad right now is representative of Syrian sovereignty," she said. "So for Assad to go right now means an end to basically Syria. It means an end to a free country. Its interests are going to be totally controlled by the US and the Gulf Cooperation Council countries."

It will not only bring more death and destruction, but will also degrade Syria's way of life, which is mostly secular, she says.
"In spite of Syria being majority Sunni, or majority Muslim in fact, our people are secular at heart," she said. "We have a long history of many religions living together in harmony."