Gun shy: US alarmed Qatari arms for Libya now in militants' arsenals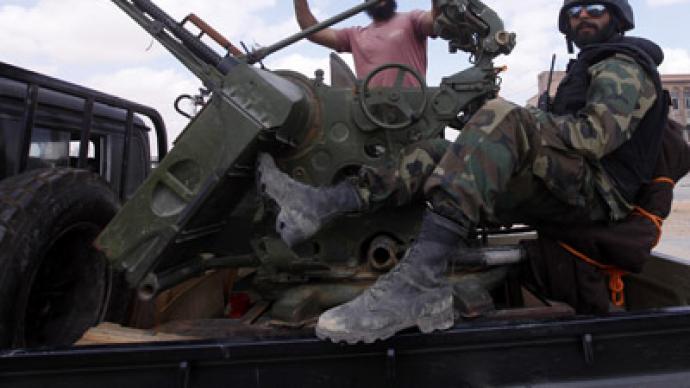 Washington has raised alarms over Qatari arms shipments to Libya possibly being redirected to militants. The concern comes despite the fact that last year the US authorized Doha to export weapons to Libya as it struggled for democracy.
The Obama administration is highly concerned that Islamist militants are arming themselves with weapons exported to Libya by Qatar, the New York Times quotes US officials and diplomats as saying.Following last year's uprising and the subsequent overthrow of Muammar Gaddafi, Libya remains highly destabilized and flooded with weapons, which circulate among different armed groups. Some of those groups could easily include Islamist militants.Qatari weapons are also reportedly leaving Libya and being shipped to other countries in the region, like Mali, where al-Qaeda-linked militant groups are trying to establish an Islamic state.Mali has been in chaos since March when the military toppled the president, after which Tuareg rebels managed to seize two-thirds of the country. On Wednesday, the African Union appealed for UN funding to fight Islamist extremists in northern Mali.Although Qatar has never officially confirmed its arms supplies to Libya, numerous reports allege that Doha was directly involved in last year's conflict in Libya.Qatar is believed to have supplied Libya with small arms, including machine guns, automatic rifles and ammunition. The imports reportedly took place with full US approval, the New York Times said. Since Washington did not want to commit to a ground operation, or deal with the politics of smuggling arms to rebels, it leaned on help from regional allies such as Qatar and the United Arab Emirates.Some US officials claimed that Qatar would not ship arms in defiance of US wishes; others said that Washington has little leverage over Doha when it comes to Qatari interests in the region.A debate about the weapons shipments was the central subject of least one meeting of the second-highest-ranked officials of major US national security agencies, the New York Times said, citing an official who attended the panel. Washington initially declined when Qatar asked for approval on the sale of US-made weapons to Libya. However, the US had no such objections against the sale of French- and Russian-designed arms, the New York Times reported.The report also claims that Mahmoud Jibril, former prime minister of the Libyan transitional government, expressed frustration at the United States allowing Qatar to arm extremist groups who opposed the new leadership.More than a year after the overthrow of Gaddafi, Libyan authorities have failed to establish full control over Libya's disparate armed groups. In October, the three-week-long siege of the city of Bani Walid killed dozens, and wounded over 100 more. The conflict began after armed militants invaded the city; government forces attempting to restore order faced fierce resistance from well-armed rebels.