US agent goofed in Indian diplomat arrest – lawyer
The controversial arrest and strip search of an Indian diplomat in New York came after the blatant mistake of a US agent, her lawyer says. The agent allegedly mistook the diplomat's salary with her housekeeper's wages, triggering the "disastrous" row.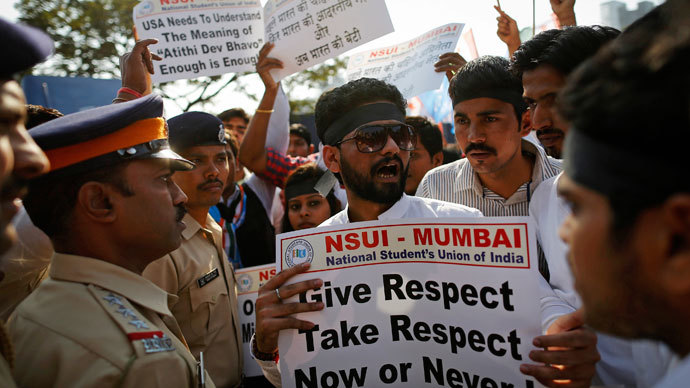 Attorney Daniel Arshack - who represents Devyani Khobragade, India's deputy consul general in New York - on Tuesday accused US authorities of bungling the investigation leading to his client's arrest, AP reported.

According to Arshack, the US agent who drew up charges against the diplomat "erroneously and disastrously" mistook Khobragade's listed base salary of $4,500 per month for what she intended to pay her housekeeper. The mistake was allegedly made while reading a form submitted on behalf of the domestic worker.

The diplomat's salary was listed on the form for the purpose of providing proof that she earned enough money to pay her housekeeper $1,560 per month, or $9.75 per hour, for a 40-hour work-week, the lawyer said.

According to AP, the mistake "became apparent" to Arshack after he and others closely reviewed the forms that Khobragade was required to submit.

"It's incredibly unsexy kind of information, but it does go right to the heart of what this is about," the lawyer said.
The Indian diplomat was arrested on December 12 on charges of making false declarations on a visa application for her New York City housekeeper, later identified as Sangeeta Richard.

In court documents, US authorities claimed Khobragade falsely stated that she paid Richard $4,500 per month for a 40-hour work-week.

Moreover, the charging document alleged that Khobragade secretly signed a second contract with Richard, in which she agreed to pay her the equivalent of around $570 a month – an amount which is illegal under US minimum wage laws. The housekeeper ended up receiving even less than that – about $3.31 per hour for a 40-hour workweek, the complaint said.

Nearly one week after her arrest, Khobragade said in an emailed statement to media she was subject to "repeated handcuffing, stripping and cavity searches," despite asserting that she had diplomatic immunity.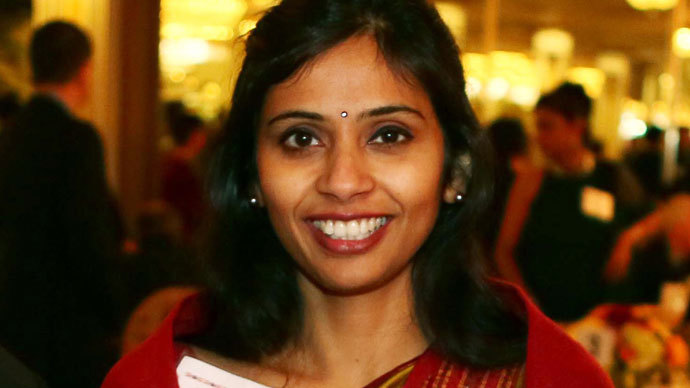 The US State Department then said in a statement that Khobragade only had consular immunity - which is separate from diplomatic immunity and does not prevent career officers or employees from being arrested.

Khobragade has since been released on $250,000 bail and was transferred to India's United Nations mission in New York after the UN approved a request from India to accredit the diplomat.

However, Khobragade still needs the approval of the US State Department in order to receive a UN post granting her broader immunity. US officials have warned that the newly acquired diplomatic immunity will not exempt the Indian diplomat from the ongoing investigation – something that her lawyer stoutly denies.

If convicted, Khobragade - who says she has already suffered from such "indignities" as strip-searching and spending time in a cell with "drug addicts" - could face a maximum sentence of 10 years in jail for visa fraud and five years for making a false declaration.

The incident has triggered outrage in India and sparked a diplomatic row between New Delhi and Washington.

India's foreign minister, Salman Khurshid, has called Khobragade's treatment "completely unacceptable."

In response to the incident, New Delhi reportedly withdrew all ID cards issued to officials at US consulates across India, according to AFP. It ordered police to remove safety barriers around the US Embassy, and announced a freeze on duty-free alcohol and food imports. This was topped by promises to review work conditions and salaries of Indians working in US consulates.
US Secretary of State John Kerry expressed regret over the incident on Wednesday, but State Department deputy spokeswoman Marie Harf said the treatment of the Indian diplomat was in accordance with "standard procedures."

While prosecutors have declined to comment on Arshack's latest claims, US Attorney Preet Bharara earlier questioned why there was "precious little outrage" about the alleged treatment of the Indian housekeeper, and vowed to uphold the law and hold lawbreakers accountable "no matter what their societal status and no matter how powerful, rich or connected they are."

According to Reuters, the US has flown Richard's family out of India. The move follows Bharara's allegations of US attempts to "silence" the housekeeper and compel her to return home.
You can share this story on social media: