​India-US relations sink to new low over diplomat arrest and strip search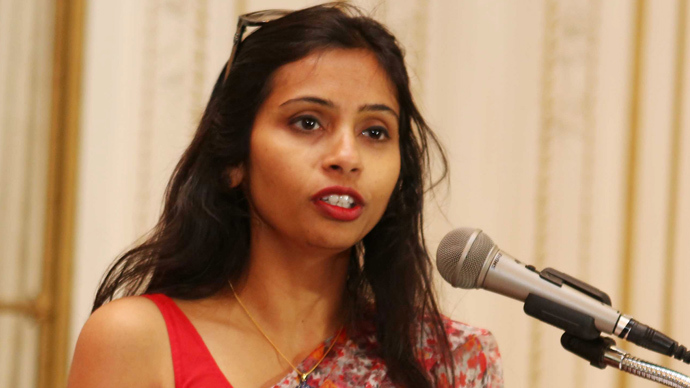 Washington has put on hold an official visit to New Delhi, as India orders the closure of the US Embassy club. The world's two most populous democracies with bilateral trade of $100 billion a year are witnessing an escalation of their worst row in years.
Amid rising diplomatic tensions, it was announced on Wednesday that US Energy Secretary Ernest Moniz would not go on an official visit to India, which had been scheduled for next week and had been considered a high priority event.
"In view of the importance of these matters to the overall bilateral relationship, we look forward to holding the Energy Dialogue at a mutually convenient date in the near future that will permit both sides to deliver concrete outcomes for both governments and our two peoples," Reuters cited an Energy Department official as saying.
India meanwhile ordered the cessation of any commercial activities on the territory of the US Embassy compound in New Delhi by January 16. That would erase from the city map the club that for decades has served as a mecca for Americans working in India.
These have been the latest episodes in the diplomatic stand-off the Indian media described as the worst since New Delhi's 1998 nuclear tests. The crisis in Indian-US relations was sparked by last month's arrest, handcuffing and strip-search of India's deputy consul in New York, Devyani Khobragade. She is accused by prosecutors of paying her housekeeper less than the US federal minimum wage, and of lying about the fee in her visa application. Khobragade allegedly paid her maid three times less then was stated in the documents she filed to the US State Department.
The arrest and the strip search part of it in particular caused outrage among Indian politicians, who believe that a woman representing their country was insulted by law enforcers.
Apart from the order to close the Embassy Club to non-diplomats, New Delhi reacted with downgrading privileges for US diplomats. Their immunity in case of offenses was limited, their families were stripped of diplomatic ID cards. Among other measures, signaling a chill in the two country's relations was the removal of security barricades protecting the US Embassy.
India's external affairs minister, Salman Khurshid, described it as a "reciprocal" response to the arrest of an Indian diplomat.
"Our position is very clear. She is an Indian diplomat. She is the face of Indian diplomacy in the US, among others including our ambassador," Khurshid said, as cited by USA Today. "We expect a friendly country like the US to do what a friendly country does."
Secretary of State John Kerry tried to alleviate tension by issuing an expression of regret for Khobragade's treatment. The State Department spokeswoman, Jen Psaki, expressed hope the countries would maintain their "strong historic relationship" despite the row.
"We, of course, endeavor to always be in compliance with local laws and regulations," Psaki said, as cited by the Washington Post. "We're continuing our conversations with the government in response to diplomatic communications, with the importance of our broad relationship in mind."
US Attorney Preet Bharara, however, according to the Wall Street Journal, issued a statement defending Khobragade's arrest procedures, saying she was afforded courtesies most Americans wouldn't get. He also explained that according to US law, Khobragade does not enjoy diplomatic immunity.
On January 13, Devyani Khobragade is to appear in court, where she could be indicted.
India is insisting on a formal apology from the US for the arrest, and is demanding withdrawal of the charges against Khobragade. In case that does not happen, New Delhi is promising more retaliatory measures against Washington.
You can share this story on social media: