All fired up! Pakistani flag makers cash in on anti-US rage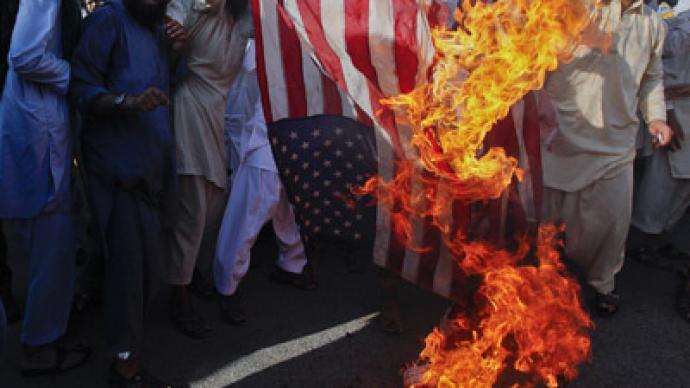 After weeks of protests in Pakistan at the cheaply made film Innocence of Muslims, flag makers are working in overdrive, churning out Stars and Stripes so they can be burnt and trampled on by irate Muslims.
"Whenever we have these demonstrations, I make 10 times as much money as normal," Naveed Haider confessed to AFP from his seedy print shop in a rundown building in Rawalpindi, a twin city with Islamabad. Since demonstrations exploded on to the streets a few weeks ago Naveed hasn't had a moment's peace. Not because of the noise and gun shots but because he can't shift enough flags. Sold for between US$1.25 and $16, depending on size and quality – quality is measured by how quickly it will go up in smoke – Naveed's bank balance has hit the roof. The boom in the flag market has accompanied a surge in anti-American feeling in Pakistan, which has been battered by a mix of Taliban violence and US drone attacks since Washington's War on Terror kicked off in late 2001. The US has even replaced traditional flag burning rival India as public enemy number 1. One thousand five hundred rupees, just $16, will get you a three quarter square meter Old Glory in cloth and comes with a guarantee it will easily catch fire – a major concern for protestors with all the TV cameras around. "It brings me such pleasure, it's not a crime but a means of expression like any other," said Assim, a lanky 22-year-old waiter.Protests against the film have led to more than 50 deaths in the Muslim world since demonstrations flared up on September 11.In Pakistan alone nationwide rallies have mobilized more than 45,000, with 21 people killed and 229 wounded, largely because of clashes with the police. One man even passed out and died after inhaling fumes from an American flag he'd just set alight. The protestors have had a nod and a wink from the state in Pakistan. Railway Minster Ghulam Ahmed Bilour placed a $100,000 bounty on the film makers head calling on both Al-Qaeda and the Taliban to hunt him down as a "noble deed".One of the country's largest religious parties actually gives its members American and Israeli flags before any demonstration so protestors "can voice their anger," explained Sajjad Abbas, a party official in Islamabad. Jamat-e-Islami, a front for terror group Lashkar-e-Taiba, or army of the pure, says it has a "special team" dedicated to pumping out US and Israeli flags.While Majlis-e-Wahadatul, a Shiite Muslim party active in recent protests, utilizes its militant student wing to sort out a ready supply of flags with printers. "We turn out 500 an hour", crowed Mazhar Shigri, the group's spokesman in Lahore, Pakistan's second-largest city. The group is preparing for a major stunt later this month, a massive US flag 500 meters by 60 meters wide will be laid out on a busy street and then trampled underfoot. "All the cars and pedestrians can defile it as they pass over," Shigri gleefully explained.