Pakistan cabinet minister offers $100k to murder anti-Islam filmmaker
Published time: 22 Sep, 2012 23:39
Edited time: 23 Sep, 2012 18:13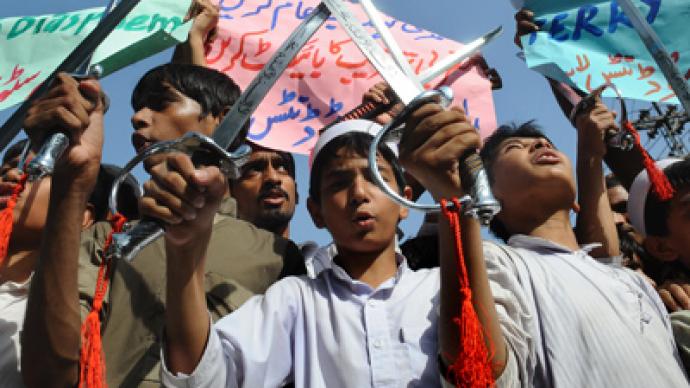 Amid protests that killed more than 20 people throughout Pakistan on Friday, the country's Cabinet minister offered a $100,000 reward for the murder of the US filmmaker that ridiculed Islam's Prophet Muhammad.
­Minister Ghulam Ahmad Bilour told the Associated Press that he encourages the Taliban and al-Qaeda to perform this "sacred duty." He himself would pay the reward out of his pocket, he said.
"I announce today that this blasphemer, this sinner who has spoken nonsense about the Holy Prophet, anyone who murders him, I will reward him with $100,000," he said at a news conference in Peshawar Saturday. "I invite the Taliban brothers and the al-Qaeda brothers to join me in this blessed mission."
Worldwide, offended Muslims have expressed their outrage against the film titled "Innocence of Muslims," which was allegedly produced by 55-year-old filmmaker and Egyptian-born Coptic Christian, Nakoula Basseley Nakoula, also known as Sam Bacile. Death threats against the alleged filmmaker are being made across social media websites, causing the Californian man and his family to go into hiding.
"I also announce that if the government hands this person over to me, my heart says I will finish him with my own hands and then they can hang me," the minister said. The government of Pakistan has already proclaimed that it has disassociated itself from the minister's statement. But as protests raged on, anger at the filmmaker continued to brew among those who felt personally offended by the 13-minute anti-Muslim YouTube clip.
"Insallah, we will kill him," wrote one Facebook user from Karachi, Pakistan.
And as more than 5,000 protesters marched towards the parliament in Islamabad Saturday, there was much chanting about the filmmaker who enraged so much of the world. Knowing that he was committing a crime by endorsing murder, Minister Bilour said he was ready to carry out the deed himself.
"Punishment for those who humiliated our Prophet," the protesters chanted while rallying in the capital, just a day after exceptional violence erupted throughout the country.