Pakistani retailer faces blasphemy charges after not joining film protest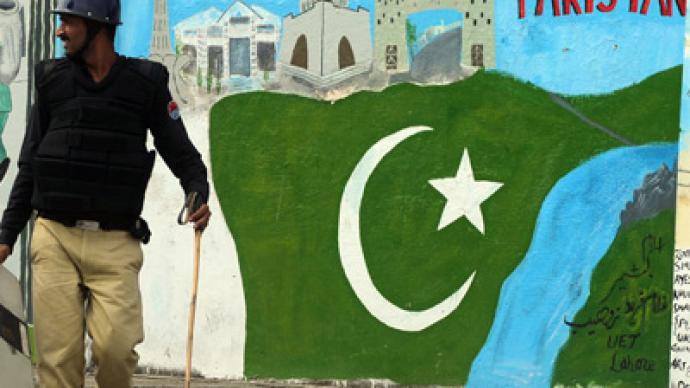 Pakistani police are probing a local businessman over alleged blasphemy. His refusal to close his shops in solidarity with demonstrators against an Islam-insulting film led to a standoff which could see him face execution or life imprisonment.
Haji Nasrullah Khan owns roughly 120 shops in Hyderabad, police officer Munir Abbasi said. On Saturday, hundreds of people rallied in the city in a protest against an amateur anti-Islam film, which triggered similar demonstrations by Muslims across the world.The crowds demanded that Khan shut his businesses in solidarity, which he refused to do. The decision angered protesters, who believed the businessman supported the film by his refusal. Moreover, they claimed Khan insulted the Prophet while he was arguing with them and demanded his arrest on blasphemy charges.The protesters failed to provide any evidence of the charges, which may bring capital punishment of life in prison in Pakistan if proven, city police Chief Fareed Jan said. But police launched a probe into the matter to appease the mob, which surrounded the police station and demanded that the businessman be brought to justice. Authorities stopped short of indicting Khan.The retailer and his family are now in hiding fearing for their lives. His house has been ransacked by the crowds, Abbasi said. He added some radical Islamist groups have been advocating against Khan.Police suspect that some of the complaints against Khan have been filed by other shop owners, whom the businessman threatened to evict for late payments.The case highlights the potential for abuse of blasphemy laws in Pakistan, which, critics say, are often used for personal vendetta rather than protecting Islam. It was highlighted in the recent case of a 14-year-old girl, who was charged with insulting the Koran. She was later released on bail, after a cleric was accused of planting evidence to incriminate her.An accusation of blasphemy, even if not proven, often brings dire consequences in Pakistan. Earlier this summer, a mob dragged an accused blasphemer from a police building and lynched him on the spot.
You can share this story on social media: