US diplomat flees Kenya after deadly car crash - report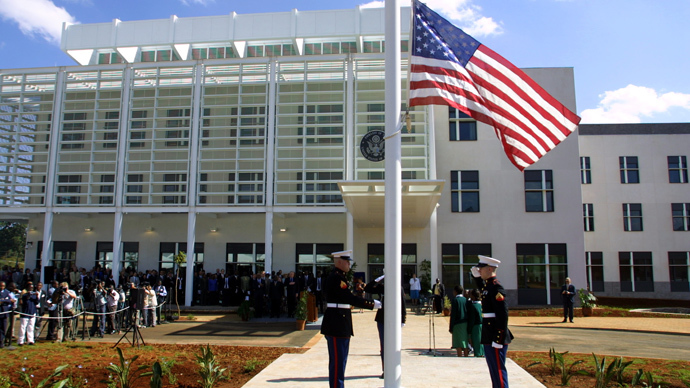 An American diplomat was whisked out of Kenya by embassy staff a day after he was involved in a fatal crash in his SUV with another vehicle, killing a father of three. His widow, who is six months pregnant, now faces eviction.
Latifah Naiman Mariki, 38, whose husband was killed in the crash, has told the Associated Press that neither the driver nor anyone at the US Embassy has contacted her. The widow is now uncertain how she will provide for her unborn child, as well as her three children, aged 20, 10 and 7.

Officials also told the AP that the eight or so other crash victims injured in the accident have yet to receive financial assistance for their hospital bills.

"It is difficult for me to handle this matter because my kids need to go to school. They need everything, basic needs," Mariki said. "And we have no place to stay because we have to pay the rent. We have no money. Even if my kids are sick I have no money to take them to hospital."

The driver of the SUV, Joshua Walde, was an information management officer at the US embassy in Nairobi. On the evening of July 11 Walde crashed into a mini-bus, also known in Kenya as matatus, while on his way home.  He gave a statement to police, but because of diplomatic immunity he was not detained.

According to officials cited by the AP on Friday, Walde was said to be speeding in his SUV when he crossed into the center line of the road and rammed into the small bus.

Documents available from police regarding the case included sketches of the incident, showing the American's SUV turning at a four-way intersection on the edge of the capital of Nairobi, and then driving into oncoming traffic.

"He was driving very fast," said a police officer familiar with the case. Pictures included in the police record show that the SUV hit the front corner and the side of the mini-bus, crumbling its frame. The AP reports that such mini-buses are known to be driven at high speed and erratically as well.

Online details left by Walde, an 11-year veteran with the State Department, showed that shortly after the crash his work history on the networking site LinkedIn was updated to reflect Nairobi in the past tense. A Facebook group formed by a group of concerned Kenyan mothers took up Mariki's case this week, and are raising funds for her family.

After the Facebook group discovered Walde's LinkedIn profile it was quickly deleted. Members believe that the change indicated Walde would not return to Kenya to face charges, or to offer financial compensation to victims

Michael Greenwald, a spokesman for the US embassy in Nairobi, denied Walde had left Kenya to avoid charges. According to Greenwald the embassy worker who was under investigation following the July 11 accident left the country three days later to seek medical treatment for his arm, reports Nairobi-based The Star.

Greenwald did not comment on when or if Walde's wife Carla Cabrejo and their son would return to Kenya.

"We are cooperating with the Kenyan authorities," Greenwald said.

Nairobi provincial traffic chief Patrick Lumumba on Tuesday said Walde's departure had left  police with no option but to involve the country's Foreign Affairs ministry and diplomatic police.

Lumumba said officials have written to Attorney General Githu Muigai and the Ministry of Foreign Affairs for help in having Walde brought back to Kenya to face charges stemming from the incident.

According to State Department policy on US diplomatic immunity it "is not intended to serve as a license for persons to flout the law and purposely avoid liability for their actions. The purpose of these privileges and immunities is not to benefit individuals but to ensure the efficient and effective performance of their official missions on behalf of their governments."

A US official who spoke with the AP stated that embassy employees are typically evacuated for medical evaluations after traumatic events, but may also be removed from the country to avoid possible retribution from others involved in an accident.

Mariki said her husband's body had been immediately transported back to his home in Tanzania where he was buried according to Islamic religion.

"Why has nobody brought the man responsible for my husband's death to justice? What am l supposed to do now?" said Mariki.

You can share this story on social media: