Syria's most toxic substances to be destroyed on US ship - global watchdog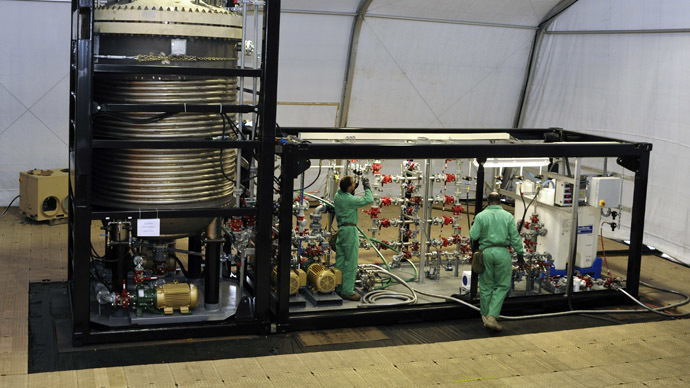 The US has officially volunteered to eliminate Syria's most dangerous chemical arms substances, the international chemical weapons watchdog announced on Saturday. The rest will be destroyed by certified private companies, the OPCW said.
"The United States has offered to contribute destruction technology, full operational support and financing to neutralize Syria's priority chemicals," announced the Organization for the Prohibition of Chemical weapons (OPCW) in a statement issued on Saturday.
The director-general of the organization, Ahmet Uzumcu, said that Syria's most toxic substances will most likely be eliminated on a specially equipped ship in neutral waters in the Mediterranean Sea.

The US Virginia-based MV Cape Ray is reportedly being readied for the task, undergoing modifications to have a chemical weapons neutralization system installed on it.
Several nations approached for help in disposing of Syria's chemicals have reportedly turned the proposals down. According to the Wall Street Journal, Norway, Albania and Belgium have all declined requests for assistance.
So, last week the OPCW announced that it would seek companies ready to do "the treatment and disposal of hazardous and non-hazardous organic and inorganic chemicals" from Syria's chemical weapons program.
On Friday Director-General Ahmet Uzumcu revealed that as many as 35 private companies had expressed interest in destroying a part of Syria's chemical weapons stockpile, of which 28 companies have submitted official requests.
These companies are tasked to eliminate nearly 800 tons of chemicals and 7.7 million liters of liquid waste.
Damascus is obliged to complete disposal of all the estimated 1,200 tons of toxic agents by December 31, 2013, whereas the total annihilation of the Syrian chemical stockpile is set for mid-2014.
The OPCW, recent Nobel Prize winner, was given the task of destroying Syria's chemical weapons when the US agreed not to use military force against Damascus. This came after the Moscow-advocated proposal of stripping Syria of its chemical weapons.
On Friday the OPCW declined Syria's plea to convert some of its chemical weapons program sites into storage facilities.
Despite Syria's full cooperation with the international effort to destroy toxic stockpiles, the request met with little OPCW support.

A European official told the New York Times, on condition of anonymity, that Syria's request submitted last Tuesday basically "didn't make a compelling case" and failed to persuade 41 member nations of the OPCW executive council.
Syria's chemical weapons have been posing a considerable threat for well over two years now, the fear being that they could fall into the hands of radical Islamists fighting against the Syrian government.

You can share this story on social media: