Washington divided: Obama under pressure to cut Egyptian military aid
Published time: 19 Aug, 2013 10:34
Edited time: 19 Aug, 2013 18:59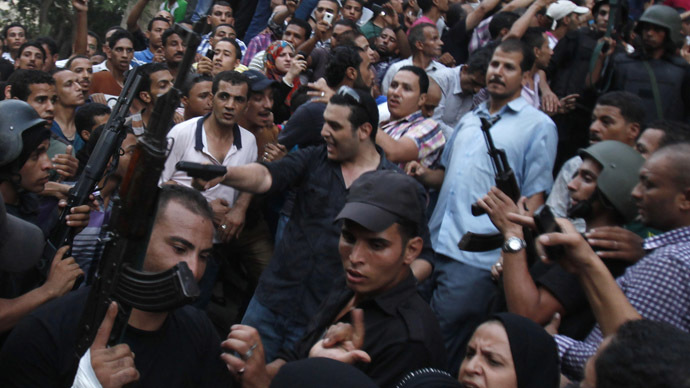 The US Congress is split over whether to cut military aid to Egypt in the wake of last week's bloody crackdown. Republicans have slammed Obama's lack of action as going against US values, but a withdrawal of funds could trigger an economic backlash.
Washington's review of military, security, and economic assistance to Egypt is "ongoing" and adjustments will be made "as needed," the State Department said on Monday.
"We have not made a policy decision to put a blanket hold on the economic support fund," spokeswoman Jen Psaki said, adding that the review also applied to military and security assistance. NGO funding will not be affected regardless of whether the US imposes restrictions on aid, she said.

Cutting the $1.3 billion US aid package that supports the Egyptian military could have repercussions in the region. For one, US allies Israel and Saudi Arabia have already moved to step up their support for the military-led overthrow of President Mohamed Morsi.Saudi Arabia, which is seeking to curtail the influence of the Muslim Brotherhood in the region, pledged $5 billion to the Egyptian military following Morsi's ouster.
Its Gulf neighbors Kuwait and the United Arab Emirates, who also fear the spread of the Brotherhood's ideology, have also promised aid.
There are also implications for the American economy. Canceling military aid could mean US taxpayers are left to foot the bill for Egyptian military equipment already ordered on credit from US arms manufacturers, while canceling defense orders could also hit US company profits and jobs at home – at a time when recession fears are growing.
Obama last week said a military exercise with Egypt would be canceled, but it is less clear whether any cuts will be made in the $1.3 billion military aid.
"As we've made clear, all of our assistance to Egypt is currently under review, and we will consider additional steps as we deem necessary," said National Security Council spokeswoman Caitlin Hayden.
Although Obama has condemned the violence that accompanied the ouster of President Mohammed Morsi on July 3, he has stopped short of calling the removal of the leader by the military a coup. If he had described it as such, US rules on foreign aid would have ruled out any financial support to the Egyptian military.
On Sunday, Arizona Senator John McCain, who visited Cairo with fellow Republican Lindsey Graham before the crackdown last week and urged caution on the new Egyptian authorities, called on the US government to cut military aid to Egypt.
McCain spoke out against the he sees as a lack of resolve from the Administration, decrying Obama for adopting polices that he said eroded America's credibility in the Middle East.
"There is no policy. And there is no strategy. And therefore we react and we react poorly," said McCain.
Some on Capitol Hill argued for a more conciliatory approach toward the Egyptian government, however.
Eliot Engel, senior Democrat on the House of Foreign Affairs Committee, called for caution and said America should not "cut off its nose to spite its face."
"We essentially have two choices in Egypt, and that's a military government – which hopefully will transition as quickly as possible to civilian government – or the Muslim Brotherhood. I don't think the Muslim Brotherhood is a choice," he added in an interview with ABC's This Week program.
In the wake of last week's crackdown, Washington canceled joint military exercises with the Middle Eastern country and put the delivery of four F-16 fighter jets on hold. Meanwhile, German has cut off financial aid to Cairo altogether and EU leaders have called for an "urgent review" of their ties with Egypt.
Clashes across Egypt between supporters of Morsi's Muslim Brotherhood and the military have left over 800 dead and thousands more injured. Following the brutal street violence of the last week, Egypt's current Prime Minister, Hazem el-Bablawi, proposed on Saturday that the Muslim Brotherhood should be outlawed in the country.