No olive branches in Korea: North fires hawkish general, US sends warships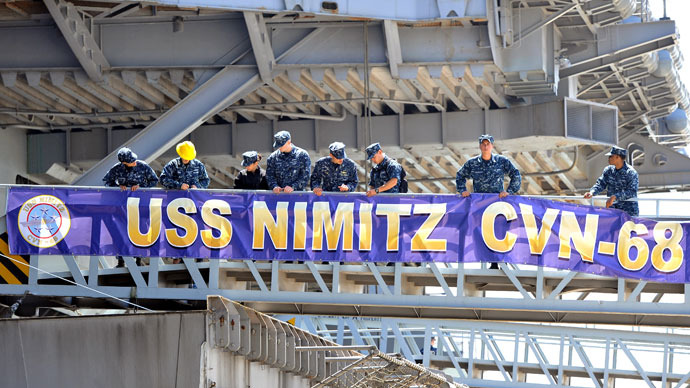 North Korea has replaced its hawkish armed forces minister with a younger general. The move comes as the US and South Korea launch new naval war games, which Pyongyang decried as "blackmail" and a "provocation."
General Kim Kyok-sik – who reportedly ordered the 2010 shelling of a South Korean island – was appointed to his post last November. In a Monday report, state news agency KCNA announced that the relatively unknown General Jang Jong-nam is the new minister of the People's Armed Forces. The general was previously the top military commander of a province of North Korea.
Pyongyang did not comment on the reshuffle, but some Korea experts believe it may be part of the North's latest move to cool inflamed tensions in the region. Earlier, Pyongyang withdrew two Musudan medium-range ballistic missiles it had deployed in the east of the country. 
While Pyongyang is apparently offering concessions, the US nuclear-powered aircraft carrier Nimitz anchored off the South Korean port of Busan on Saturday. The ship is scheduled to take part in search and rescue operations and sea maneuvers from Monday to Tuesday off the country's eastern coast, the South Korean Defense Ministry announced.
Pyongyang's cross-border affairs ministry branded the deployment as a "grave military provocation" that would heighten tension in the Korean Peninsula.
"The joint naval drill involving the latest weaponry including the nuclear aircraft carrier is a wanton blackmail against us and demonstrates... that their attempt to invade us has reached an extremely reckless level," the Committee for the Peaceful Reunification of Korea said in a statement on Saturday night.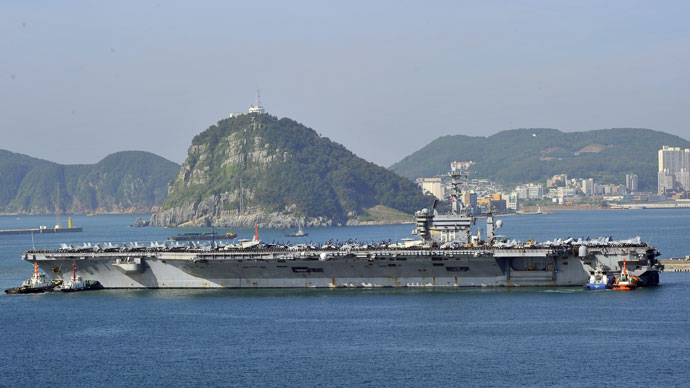 The Carrier Strike Group Eleven, of which Nimitz is the flagship, includes eight warships (including the aircraft carrier itself), four surface action group destroyers and three escort ships. Nimitz also has 64 combat aircraft stationed on board.
The group's commander, Rear Admiral Mike White, said the arrival was scheduled and not a response to the period of heightened tension in the region. "This is not a response to any particular event, but part of our continuous engagement, much like we shared for 60 years," he said.
The US and its military ally South Korea conduct over a dozen joint military drills annually, some of which include tens of thousands of troops and some of world's most powerful military hardware. Currently, a joint anti-submarine warfare exercise is underway in the Yellow Sea.
North Korea regularly denounces such war games as provocative, claiming they are cover for a possible attack. The latest exercise, during which the US deployed its nuclear-capable stealth bombers, was met with a flurry of threats from Pyongyang, which said it would use its nuclear arsenal against American and South Korean troops if attacked.
Washington is flexing its military might in response to North Korea's third nuclear test in February. The move was condemned internationally, and led to the UN Security Council issuing new sanctions against Pyongyang.
However, North Korea insists that it needs nuclear weapons to defend its national sovereignty from Washington and Seoul, and defies the UNSC's resolutions requiring it to halt development of nuclear weapons and ballistic missile technology.
You can share this story on social media: