On track to reach US: Pentagon warns of N. Korea rocket, nuclear progress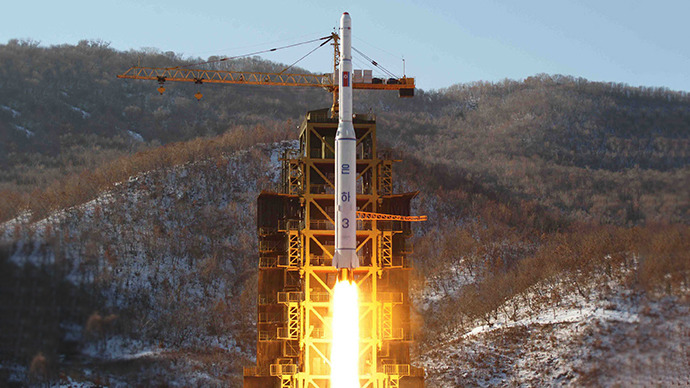 If North Korea continues its work on nuclear and rocket technology, it will eventually produce a nuclear warhead-tipped missile capable of reaching the US, the Pentagon reported to the US Congress.
The Thursday report, which is the first version of an annual Pentagon assessment required by law, pointed out to the launch of a satellite in December and the third nuclear test in February as the signs that North Korea's progress towards a fully-fledged intercontinental nuclear missile.
"These advances in ballistic-missile delivery systems, coupled with developments in nuclear technology... are in line with North Korea's stated objective of being able to strike the US homeland," the report said.
The document said North Korea was one of the biggest US security challenges in the region, mentioning its record of selling weapons technology to other countries and its willingness to "undertake provocative and destabilizing behavior."
Earlier a study by Pentagon's Defense Intelligence Agency prepared in March was leaked to the media. It assessed "with moderate confidence the North currently has nuclear weapons capable of delivery by ballistic missiles, however the reliability will be low."
The Korean Peninsula saw a period of escalated tension lately as North Korea and its adversaries traded threats and accusations.
Pyongyang, which was subjected to a new round of UN sanctions in response to its third nuclear test, demanded that the US and South Korea abort their massive joint exercise. The North threatened to use its nuclear arsenals against target on its neighbor's territory and American soil, if the drills escalate into an attack.
Washington and Seoul proceeded with their drill plans, with the US deploying some of its most powerful hardware, including nuclear-capable bombers and missile destroyers. South also threatened to carry out a pre-emptive strike, if it saw preparation for a nuclear launch on North's part.
The escalation of tension happened as other regional countries, including Russia and China, called on all parties involved to refrain from provocations or any moves that could be regarded as such by the opponent.
"What we need is not pumping the military muscle and using the current situation as a pretext for serving some geopolitical goals, but focusing the effort on renewing the six-party talks," Russia's Foreign Minister Sergey Lavrov said.
The bellicose rhetoric has so far resulted in the shutdown of the Kaesong industrial zone, a rare example of cooperation between the warring neighbors, which was the legacy of the so-called sunshine policy and the period of rapprochement between Seoul and Pyongyang it allowed for.
You can share this story on social media: