UNSC nearing 'better understanding' on Syrian resolution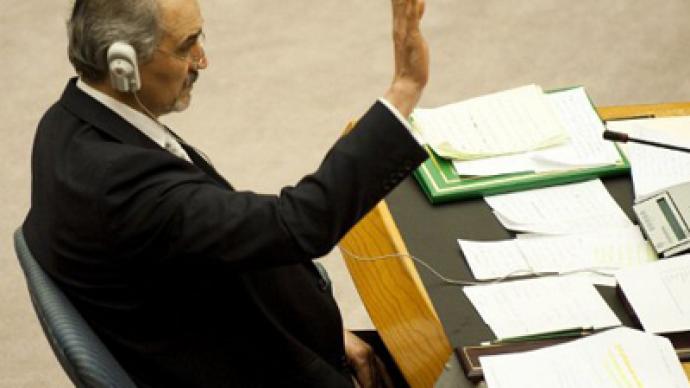 Some progress has been made in the discussion of a draft resolution on Syria, Russian Ambassador Vitaly Churkin said after a closed session at the UN on Wednesday.
"We have a much better understanding of what we need to do to reach a consensus," Churkin stated.Russia still opposes any phrasing in the draft that could bring military intervention or regime change in Syria.Before the session, US Secretary of State Hillary Clinton told Security Council members that they must decide whether to support the Syrian people, or a "brutal, dictatorial regime." The UNSC is not expected to vote on a resolution until next week.
The world community should not take sides in the Syrian conflict, but stand back and allow Assad's regime and the opposition to engage in political dialogue, John Glaser, assistant editor with Antiwar.com, told RT."It is not the business of the US or the UN Security Council to go around implementing regime change. That is not what they should be doing," he said. "All sides should end support for all sides and encourage dialogue and an end to violence."Military intervention is no solution to the violence in Syria, Glaser observed. "As we have seen with Western interventions, particularly US-led interventions, they turn into all sorts of extra violence that cannot be contained, and all sorts of unintended consequences that should be an immediate game-changer for any intervention."
The UNSC has also been accused by Russia of ignoring the findings of the League of Arab States observer mission in Syria – something which, according to Politics First editor Dr Marcus Papadopoulos, is only natural if one takes into account the politics of the situation. "The reason why Western governments are ignoring the finding of the report is because it doesn't fit into their agenda", Papadopoulos told RT. "Syria is a huge player in Middle Eastern politics, and the West, principally America, has a very problematic relationship with Syria. So it would be very much in American interests for President Assad to fall from power, and for a more accommodating, more pro-Western government to come to power." According to the political journalist, this is what Washington is aiming for – near full control over the Middle East. "It is what I would describe as a geo-political chessboard," Papadopoulos said.
You can share this story on social media: