Underwater armory: Millions of munitions found off US coasts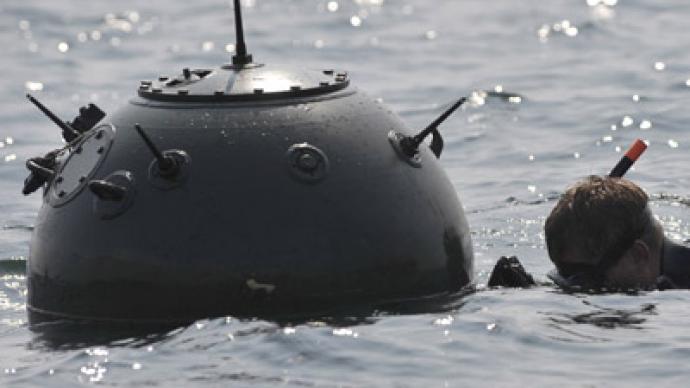 There are probably more than 14 million kilograms of explosives on the seabeds off several US coasts. The unexploded bombs – dumped there by the military – pose a continuing danger as energy companies drill for underwater oil.
Most of the debris consists of malfunctioning or outdated ordnance or weapons and explosives seized from war enemies. It was dumped from the 1940s, when there was little regulation over international water, until 1972, when an international treaty banned uncontrolled waste disposal."These bombs are a threat today and no one knows how to deal with the situation," said William Bryant, a Texas A&M University professor of oceanography who recently presented the findings at a conference aimed at tackling the problem."If chemical agents are leaking from some of them, that's a real problem. If many of them are still capable of exploding, that's another big problem."The risk of unused bombs suddenly detonating is small, but any accident can be catastrophic, particularly if there are pipelines nearby.Bryant is even more worried about toxic agents, such as mustard gas, the dreaded World War I weapon, which is carcinogenic and causes burns. It may harm marine life, and has on several occasions been accidentally lifted off the sea bottom by US fishermen.The dangerous cargo was meant to be disposed of in specially-designated zones off every coast of the US, but Bryant says that a significant proportion of it was "short-dumped" – dropped off closer to the coast, and never documented.Oil and telecommunications companies have long been aware of the danger. Last year, BP had to move and explode a bomb from its functioning pipeline, an expensive operation that took several months.But Bryant believes that removal can occasionally be as dangerous as simply leaving the ordnance at the bottom, so essentially the damage has been done.He estimates that around 90 million kilograms of munitions are in all of the world's water basins.There have been recent reports of extensive and erratic nuclear waste disposal programs carried out by the Soviets near the Arctic Ocean, including dumping a nuclear submarine with a dangerously unstable reactor."You can find munitions in basically every ocean around the world, every major sea, lake and river," says Terrance Long, founder of the Underwater Munitions Conference."They are a threat to human health and the environment."