Borderline conflict: UN Security Council urges Syria and Turkey to show restraint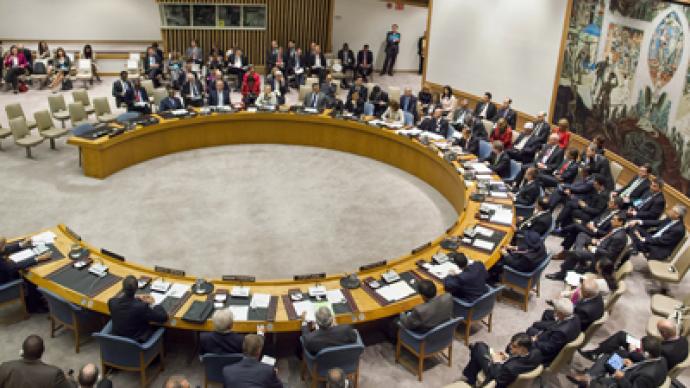 The UN Security Council condemned "in the strongest terms" Syria's shelling of the Turkish town of Akcakale, but called for restraint from both Ankara and Damascus. Earlier, Turkey authorized cross-border incursions into Syria 'when necessary.'
The key UN body also urged the Syrian government to fully respect the sovereignty and territorial integrity of its neighbors, the President of the Security Council, Gert Rosenthal, said in a press statement on Thursday.
"The members of the Security council called for restraint," he said. Asked if the call for restraint was directed only at Syria or at Turkey too, the president of the council answered "It's directed at both."
Earlier, Russia blocked the adoption of a draft statement condemning Syria and proposed a text that would call for "restraint" on the border without referring to breaches of international law.
The Security Council members also expressed condolences to bereaved family members and the victims of the incident. The statement also offered warm words to the government and people of Turkey, emphasizing that "this incident highlighted the grave impact the crisis in Syria has on the security of its neighbors and on regional peace and stability."  
"The members of the Council demanded that  such violations of international law stop immediately and are not repeated," Rosenthal added in the statement.
Five civilians, all women and children were killed in the shelling of Akcakale and a number of people were injured. Damascus apologized for the incident and said it would not be repeated.
On Thursday Turkey's parliament voted 320-129 in favor of a bill, allowing cross-border military operations into Syria 'when necessary.' Though the government was quick to eliminate the idea that they might be preparing for a unilateral military strike.
On Thursday Turkish Prime Minister, Recep Tayyip Erdogan, reiterated that Turkey "does not want to start a war" with Syria.
"We just want peace and security in our region. We could never be interested in something like starting a war. The consequences of war are plain to see in Iraq and Afghanistan," Erdogan told reporters at a news conference in Ankara.
UN.Secretary-General Ban Ki-moon expressed alarm Thursday at the escalating border tensions and warned that the risks of regional conflict and the threat to international peace is increasing, UN spokesman Martin Nesirky said.
Ban called on both sides "to abandon the use of violence, exercise maximum restraint and exert all efforts to move toward a political solution."