UN envoy slams Israel's 'unacceptable' police handling of 'Holy Fire' ritual in Jerusalem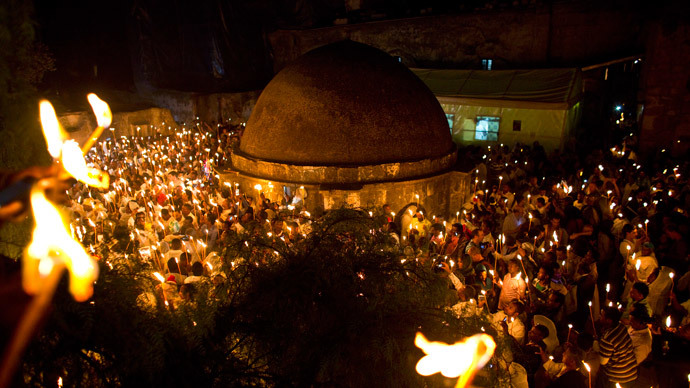 Israeli police reportedly blocked a top UN diplomat, alongside other diplomats and Palestinians, entrance to a pre-Easter Holy Fire ceremony at the Church of the Holy Sepulchre in Jerusalem, which Israeli authorities called a 'micro-incident.'
Robert Serry, the UN special envoy for Middle East peace, said he and Palestinian Christians were making their way to attend the 'Holy Fire' ceremony at the Church of the Holy Sepulcher, the site where Christians believe Jesus was crucified and buried before rising from the dead.

Despite earlier promises of unrestricted access to the church, Israeli police refused to let the group of worshipers pass, saying they had orders to that effect.

Serry said he, along with Italian, Norwegian and Dutch diplomats, was forced to wait for up to 30 minutes, crushed by the excited crowd against a barricade, while Israeli officers ignored his request to speak with a superior, according to Reuters.

"A precarious standoff ensued ending in an angry crowd pushing their way through," Serry said, lashing out at "unacceptable behavior from the Israeli security authorities."

"It became really dangerous because there was a big crowd and I was pushed against a metal fence the police put up there, the crowd tried to push really hard," the diplomat said, adding they might have been trampled had police not finally let them pass.

Serry in a statement called on "all parties to respect the right of religious freedom, granting access to holy sites for worshipers of all faiths and refraining from provocations, not least during religious holidays."

The incident comes as the Holy City, which is of religious importance to Christians, Jews and Muslims alike, prepares Pope Francis's Holy Land visit next month.

Israel dismissed the UN diplomat's complaint, calling it an attempt to exaggerate a "micro-incident" while crediting police with maintaining order as crowds of worshipers descended on the city.

Later on Saturday, Israel's Foreign Affairs Ministry dismissed Serry's account as "an odd communique on a non-event."

"Christian dignitaries of the highest level have this evening thanked the Jerusalem Police Department for its efficient service, which has enabled the Holy Day's celebrations to take place without any hindrance," the ministry said.

"Had any harm come to the pilgrims due to uncontrolled crowd movements, Mr. Serry would have been prompt to cast responsibility on the same police which he now condemns for doing its job properly," the Israeli statement added.

Meanwhile, Pope Francis is scheduled to visit Jerusalem in May, an event that may be overshadowed by a breakdown in US-brokered peace talks between Israeli and Palestinians, who face an April-29 deadline to resolve their differences.
You can share this story on social media: