Syria vows to fight 'escalated terrorist attacks' as first UN observers arrive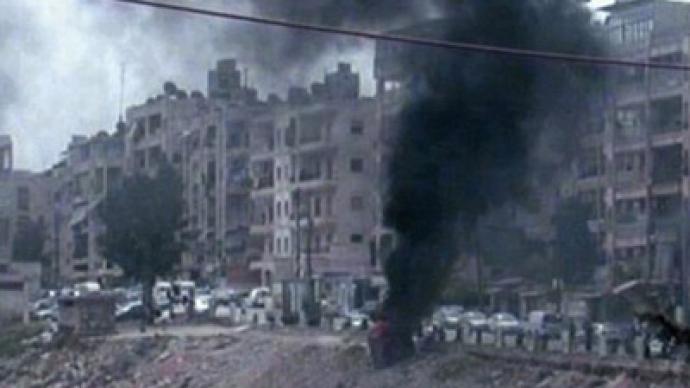 The Syrian army pledged to continue fighting armed rebels in anticipation of the arrival of a team of UN observers, as "armed terrorists" have "hysterically escalated" their attacks following the official halt of all military operations.
The first six observers arrived in Damascus late Sunday, a UN spokesman said. The other 24 are expected to follow in coming days. The observers will be monitoring the shaky ceasefire that came into force on Thursday. Aggressions against civilians, army personnel, military checkpoints and private and public properties have all escalated since then, a Syrian military source says. The onslaught came "in conjunction with the UNSC resolution to send international observers to monitor the [ceasefire],"  the official SANA news agency reported on Sunday.
"Out of their duty to protect the security of the homeland and citizens, the authorities will prevent these armed terrorist groups from continuing their criminal aggressions and acts of killings," the source said.Over the last few days, dozens of ceasefire violations have been reported from both sides. Opposition activists said that Syrian government shelled the city of Homs on Sunday, claiming at least three people were killed in the attack. Referring to the latest violence, UN chief Ban Ki-moon said he was "very much concerned about what has happened" in Syria since the UNSC adopted Resolution 2042 on sending a mission of unarmed UN observers to the troubled country.The document was based on the 6-point peace plan, brokered by UN-Arab League peace envoy Kofi Annan. The plan was aimed at stopping the violence in Syria which has taken the lives of 9,000 people, according to the UN.  They will be "on the ground in blue helmets tomorrow," said Annan's spokesman Ahmad Fawzi. "They will be quickly augmented by up to 25 to 30 from the region and elsewhere."The team was dispatched to Syria as soon as the UN Security Council unanimously approved the advance mission on Saturday. The observers are tasked with establishing and maintaining contact with both sides of the conflict, and reporting on ceasefire compliance until a full mission is deployed. The UNSC is expected to approve a full scale observer mission of about 250 people next week.Kamel Wazne, a political analyst in Beirut believes that the whole peace initiative is now under threat. And that is not because the Syrian authorities or the rebels oppose the peace, he said, but because Syria's neighbors like Qatar and Saudi Arabia would very much like to see the bloodshed to continue."Probably, we have seen and witnessed, in the past couple days, a major unrest from other terrorist organizations entering from Arab countries into Syria and causing all this havoc against the stability of Syria," he explained. "Today was a major escalation, an attack and a lot of assassinations by the opposition against civilians and Syrian officials, mostly military men. And this is happening more often now then before."
You can share this story on social media: