UN secretary-general in Moscow – Libya tops topic list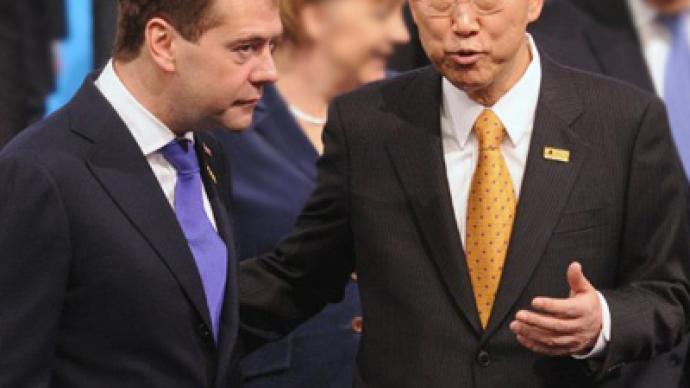 The coalition's decision to send military advisers to Libya is not exactly being welcomed with open arms in Russia. UN chief Ban Ki-moon is meeting with the Russian leadership in Moscow to discuss the issue.
Moscow is warning the move is directly against the UN resolution that bans all kinds of military aid to the North African country.Russia has repeatedly called for diplomatic solution to the conflict, warning against foreign intervention in Libya. Ban Ki-moon also called for both sides to declare a ceasefire and to begin political dialogue.At the beginning of the meeting, Russian President Dmitry Medvedev said he hopes that they will be able to discuss the current situation worldwide and, in particular, hot spots within the UN's field of vision, Interfax news agency reported.The Russian president also expressed his deepest condolences over the tragic death of UN staff in Afghanistan and Congo.A statement by the Kremlin ahead of today's talks said that the implementation of UN resolutions in full compliance and strictly within the limits of the Security Council's mandate appears to be a key issue.It is not the first time Moscow is concerned about UN resolutions being violated. Russia expressed concerns about civilian deaths by NATO air strikes in Libya.And with the recent decision by UK and France to send military advisers to Libya, Russia has warned that going beyond borders of the UN Resolution might have unpredictable consequences.That point of view was backed up by the leaders of the BRICS countries, who discussed the topic during their summit in China last week.On Thursday, Russian Foreign Minister Sergey Lavrov said that "the ground forces, the military advisers, being put in Libya, were a clear launch of a ground conflict."So some tricky talks are certainly going on in the meeting.While the conflict in Libya will certainly be taking center stage at the talks, other topics are also in the agenda, including UN involvement in conflict in Cote d'Ivoire, Fukushima nuclear issue and Somalia's piracy problem.
You can share this story on social media: