'UN observers to stay in Syria despite mission suspension' – Chief monitor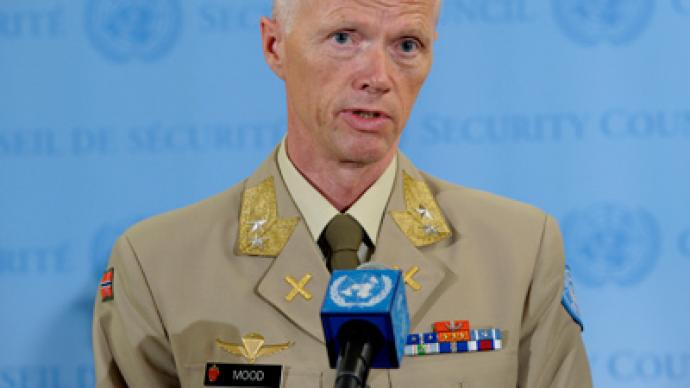 The head of the UN observer mission in Syria says the Security Council's observers will remain in Syria. Brig. Gen. Robert Mood also noted that the opposition failed to assure freedom of movement for the observers.
While the Syrian government gave the UN observer team assurances of "freedom of movement," the opposition has failed to do so. "I have not seen the same clear statement from the opposition yet," Mood told reporters after the briefing. In his address to the Security Council, Mood took note of the unsafe conditions the monitors face on the ground, a diplomat who was at the closed briefing said. In particular, observers suffered direct fire at least ten times, and nine UN vehicles were damaged or struck by small arms fire. The head of the UN observer mission said monitors were now in the process of brokering a local cease-fire in Homs, which saw an escalation of violence over the past week. Mood reportedly criticized the Syrian government for the slow release of arbitrarily detained persons. He noted that Syria announced twice it would release 500 detainees, but only freed around 330, plus a few leaders. However, Mood also reprimanded the opposition for depriving liberty to individuals. Mood's statements come after the UN mission said it was suspending its operations in Syria due to safety concerns, due to a ten-day surge in violence. Speaking to reporters, Mood did not give a specific reason for the suspension, but said one of the issues was the observers' inability to get through a crowd in the town of Haffa on June 12, when their motorcade came under gunfire and was attacked by a stone-pelting and rod-wielding mob. It was unclear who fired at the observers. Syria's Ambassador to the UN Bashar Ja'afari noted that Mood's assessment of the situation was "well-balanced" and called for all interested parties to push for the resumption of the mission.