US enlists UK clout to stop Syria-bound Russian ship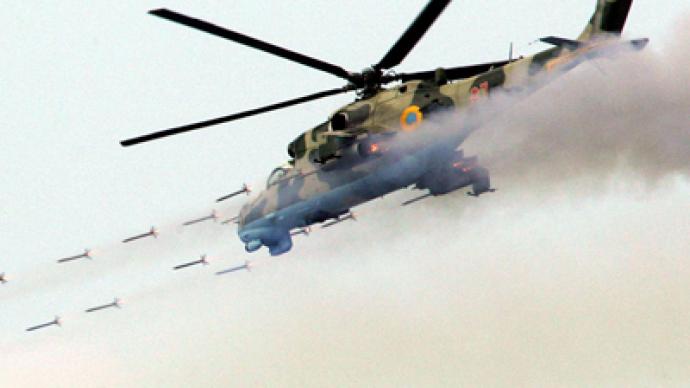 The US government has enlisted Britain's help in a bid to stop a cargo ship suspected of carrying Russian attack helicopters and munitions to Syria.
Washington is painting the alleged shipment as being in breach of the Syrian arms embargo, with a view to affecting the ship's insurance cover.The MV Alaed is a multipurpose twin-deck cargo vessel operated by Russia's FEMCO Group. It is allegedly making its way to the conflict zone in Syria via the North Sea after picking up Mil Mi-25 helicopters from the Russian Baltic port of Kaliningrad.The current European Union arms embargo against Syria, imposed in May last year, suggests a ban on the "transfer or export" of arms and any related "brokering" services, including insurance.The American government is presumably trying to use this legislation to force the vessel's London-based insurer to withdraw its cover. This would make it difficult for the ship to dock legally in ports and could force it to return the cargo to the port of origin.Washington's request to London comes after US Secretary of State Hillary Clinton last week triggered a diplomatic ruction between Moscow and Washington when she lashed out at Russia over a shipment of attack helicopters, which she said the Syrian government could use in a crackdown on the opposition forces."We are concerned about the latest information we have that there are attack helicopters on the way from Russia to Syria," she said.It was later revealed that the aircraft in question were not new machines, but rather Syrian-owned helicopters, which Russian engineers had overhauled under a standing contract at Mil's premises in Kaliningrad. The choppers are believed to be part of a 36-strong consignment ordered by the Syrian government at the end of the Soviet era.Moscow responded heatedly to the accusations. Speaking in Tehran on Wednesday, Foreign Minister Sergey Lavrov reiterated that Russia does not sell to the Syrian government any arms which could be used against the opposition, unlike the US, which sells anti-riot equipment to the governments of its Gulf region allies. The minister was referring to US supplying crowd control arms to Bahrain and other controversial allies, who are known to suppress domestic dissent with force.
You can share this story on social media: