UN urges immediate ceasefire in embattled Damascus suburb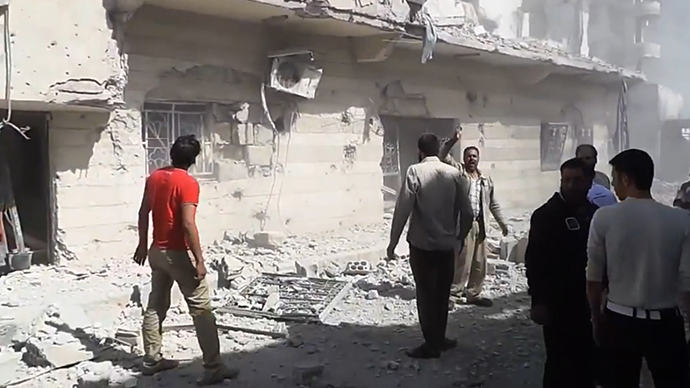 UN humanitarian chief Valerie Amos has called for an "immediate pause in hostilities" in the besieged Damascus suburb of Moadamiyeh, in order to allow safe passage to civilians trapped in the rebel-held area.
"The humanitarian community has stressed time and time again that people must not be denied life-saving help and that the fighting has to stop," Under-Secretary-General for Humanitarian Affairs Valerie Amos said in a statement on Saturday.

As fierce fighting between the government and rebel forces continues, Amos said that over 3,000 people may be still cornered in Moadamiyeh. Last Sunday, more than 3,000 civilians were evacuated from the area. "There are reports of continued shelling and fighting in the area, preventing the completion of the rescue operation," the UN aid chief added.

"I call on all parties to agree an immediate pause in hostilities in Moadamiyeh to allow humanitarian agencies unhindered access to evacuate the remaining civilians and deliver life-saving treatment and supplies in areas where fighting and shelling is ongoing."

Amos also stressed that thousands of families remain trapped in other locations across Syria, including Nubil, Zahra, old Aleppo town, old Homs, and Hassekeh. "Civilians must be allowed to move to safer areas without the fear of attack," she added, urging the parties in the conflict to respect their obligations under international human rights and humanitarian laws.

At least 15 rebels and 16 soldiers were killed in a suicide blast and subsequent fighting near a checkpoint in Damascus on Saturday, the UK-based Syrian Observatory of Human Rights (SOHR) reported. A suicide bomber from the Al-Qaeda-affiliated Nusra Front set off a charge before rebels stormed a checkpoint located near the Jaramana suburb of the Syrian capital. Syrian state television reported the explosion but did not disclose details. Government forces retaliated with air strikes, according to the SOHR.

The Syrian conflict - which is now in its third year - has claimed more than 100,000 lives, sent more than two million people fleeing for safety to neighboring countries, and displaced 4.5 million within Syria.

You can share this story on social media: