Bitter lessons: Teacher-turned-soldier shows RT reporter around war-torn Homs
Bassam Shaaban, an art teacher in Syria's Homs, traded his brush for a Kalashnikov and volunteered for National Defense Forces after a deadly rebel attack ravaged his school. He took an RT correspondent on a tour around the city devastated by war.
Twenty-nine-year-old Bassam is still haunted by memories of the day two-and-a-half years ago when the war suddenly broke into his classroom.

"I was teaching when a mortar shell landed in the schoolyard," he says. "There were a lot of victims. I remember, as I held one little girl who had been killed and seeing her blood, I felt sorry for her family. From then I knew I had to get involved."

Now, the teacher-turned-soldier displays his expertise in the art of war, as he confidently takes RT's Paula Slier past a sniper valley, saying that he is used to crossing it safely.

Homs has been the epicenter of the battle between government forces and rebels since the very start of the conflict. For quite a long time it was besieged by the rebels. Now they only control parts of the old city, where about 3,000 people civilians live. The army has managed to take most of Homs it back under its control.

The military conflict saw much of the population flee. Only one-fifth of it now remains in the city.

Bassam leads RT's correspondent further on a tour around Bab El Sham', the army-controlled part of Homs, eventually stopping at a church built in 1885, where the man once brought his children to teach them about their homeland.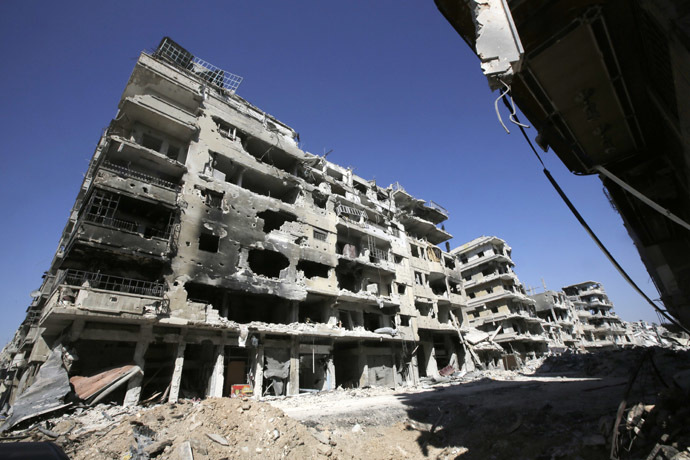 For 126 years it served as a house of sanctuary – overnight it became a house of slaughter, when it was attacked by rebel forces.   

"The Syrian army wasn't based here, there was no military here – only innocent civilians," Bassam says. "Some people here were praying for peace. This is one of the bombs that fell, one of the bombs that caused all this devastation. This is their message – we'll put it here just as a reminder."

It's not the only Christian church attacked by militants in Syria. The village of Maaloula, considered a symbol of Christianity in the country was taken over by jihadists in September. Residents claimed rebels resorted to looting, executions and forcing residents to convert to Islam.

The Homs neighborhood of Bab El Sham' is currently clear of militants. But the National Defense Forces aren't withdrawing to prevent the terrorists from coming back.

"We are also trying to bring life back to this quarter. When we defeat them we will rebuild this church and children will return to play here and prayers will once again be heard here."

It seems like Bassam's dream is starting to come true as a handful of families have come back to the area. RT's crew comes across several children playing football with a Syrian army soldier on one of the war-ravaged streets.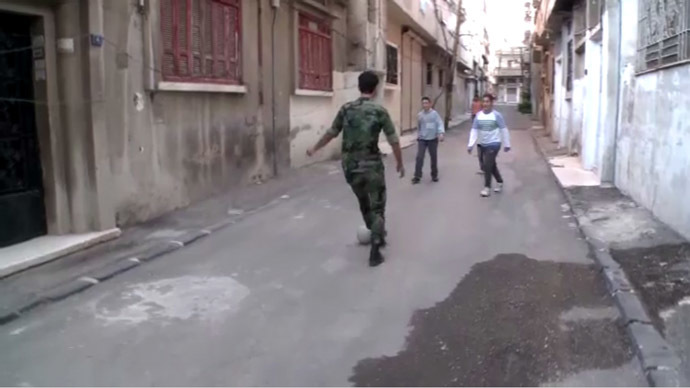 "I remember when I used to play football just like them," Sulimein, the soldier says. "And now I have to carry a gun just so that they can keep playing safely. When I was their age I dreamt of becoming a professional footballer and I'm sure they have the same dream. We're protecting them so nobody comes and destroys their dreams."

Twenty-year-old Sulimein volunteered to join his father in the army although he didn't have to do it as he is his parents' only son.

"He is the son of our country, not only my son," Sulimein's father proudly says. "In such a situation everybody should stand by their country."  

And it seems like neither Sulimein nor Bassam will be able to say farewell to their machine guns anytime soon.

The leading opposition group, the Syrian National Council, has refused to participate in the Geneva II peace conference, which is a significant blow to efforts by both the US and Russia to find a way out of the civil conflict.

The capital Damascus was rocked by multiple bomb blasts on Sunday. Experts believe the recent escalation of violence is an attempt by the talks–boycotting opposition to further undermine international diplomatic peace efforts.

As RT's correspondent leaves Bassam, he asks her to pray for him and his comrades. Most of them, he says, will probably not be here the next time she visits.

For more on the situation in Homs watch RT Paula Slier's report from the war-ravaged city.

You can share this story on social media: