Ukrainians rush for Russian citizenship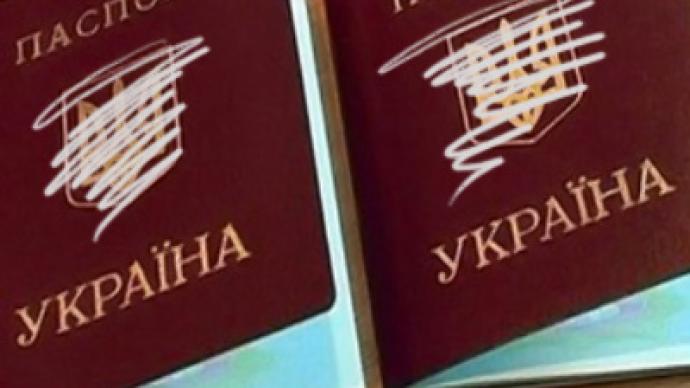 Unemployment forces more Ukrainians to drop their citizenship and apply for a different one. Migrant workers making a living abroad, especially in Russia, want to become permanent citizens.
Ukrainians seeking better work prospects and a stronger position in the labour market are eager to secure a Russian passport. Although Russia is suffering from the global economic crisis with the rest of the world, Ukraine is being hit far worse, so chances of finding a job abroad are better, reported the Nezavisimaya Gazeta newspaper on Thursday.
A construction worker in Kiev told the paper, "In Russia there are at least some jobs, while here there is none".
Dual citizenship is forbidden in Ukraine by the country's constitution, and the process of renouncing citizenship is complicated. Several agencies are involved in it, but the final approval must be signed by the president. Many people secure their Russian passport first without waiting for the lengthy
bureaucratic process to remove their Ukrainian citizenship.
Russia is the prime destination for Ukrainian guest workers. Not only are there fewer communication problems but places which also offer job opportunities for Ukrainians, such as Poland and the Czech Republic, have stricter immigration controls. Being members of the EU, they give virtually no chances for Ukrainians to become citizens. Russia also currently has a simplified citizenship programme for Ukrainians.
According to Russian migration officials, the recent surge in applications is being caused by an upcoming deadline for the programme. From July 1, Ukrainians wanting Russian citizenship will have no fast-track, so guest workers will want to secure a Russian passport without going through a usual procedure while they still can.
Official statistics in Ukraine say there are 1 million unemployed people. Trade unions suggest the number is greatly underestimated, since people see no sense in registering in employment services at home and seek jobs abroad instead.
The Russian immigration service says at least 3.5 million Ukrainians worked in Russia last year. But the number of illegal immigrants is estimated to be at least 2 million.
Political twist
The issue of Ukrainians holding Russian citizenship has a political twist. Some Ukrainian nationalistic politicians say Russian passport holders in their country are a danger to the its sovereignty. They point to events in South Ossetia last August. One of the reasons why Russia intervened when Georgia attacked its breakaway region was that many Ossetians were Russian citizens.
Kiev officials say up to 60,000 Crimean residents have both Russian and Ukrainian passports, although the exact number is not confirmed by Russia. There was even a suggestion by Prime Minister Yulia Timoshenko's party to prosecute them as criminals for violating Ukraine's constitution, but the initiative failed to get support.
The Nezavisimaya Gazeta newspaper notes that the economic crisis is taking the biggest toll in eastern Ukraine, where most of country's heavy industry is concentrated. Those regions also have the largest population with Russian ties and traditionally support pro-Russian political forces in Ukraine.
You can share this story on social media: