675,000 Ukrainians pour into Russia as 'humanitarian crisis' looms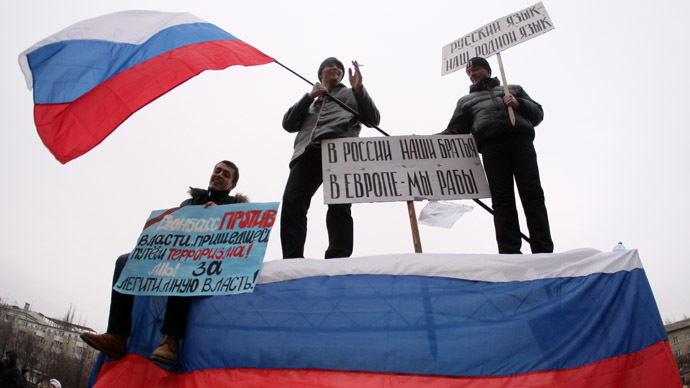 An estimated 675,000 Ukrainians left for Russia in January and February, fearing the "revolutionary chaos" brewing in Ukraine, Russia's Federal Border Guard Service said. Officials fear a growing humanitarian crisis.
On Sunday, the border guard service said Russian authorities have identified definite signs that a "humanitarian catastrophe" is brewing in Ukraine.
"In just the past two months (January-February) of this year…675,000 Ukrainian citizens have entered Russian territory," Itar-Tass news agency cited the service as saying.
"If 'revolutionary chaos' in Ukraine continues, hundreds of thousands of refugees will flow into bordering Russian regions," the statement read.
Ukrainians have long formed a large presence in Russia. According to the official 2010 census, 1.9 million Ukrainians were officially living in Russia, although the head of the Federal Migration Service put that figure as high as 3.5 million one year before. While those migrants were often prompted by economic concerns, political turmoil has spiked the recent rise in Ukrainians attempting to leave the country.
On Saturday, Russian migration authorities reported that 143,000 requests for asylum had been sent to Russia within a two-week period. Russian officials have promised to expedite the processing of those requests.
"Tragic events in Ukraine have caused a sharp spike in requests coming from this country seeking asylum in Russia," said the chief of the FMS's citizenship desk, Valentina Kazakova. "We monitor figures daily and they are far from comforting. Over the last two weeks of February, some 143,000 people applied."
Kazakova said most requests come from the areas bordering Russia, and especially from Ukraine's south.
"People are lost, scared and depressed," she said. "There are many requests from law enforcement services, state officials as they are wary of possible lynching on behalf of radicalized armed groups."
A week after the government of Viktor Yanukovich was toppled by violent street protests, fears of deepening political and social strife have been particularly acute in Ukraine's pro-Russian east and south.
Soon after Yanukovich opted to flee the country in what he branded as an extremist coup, a newly reconfigured parliament did away with a 2012 law on minority languages which permitted the use of two official languages in regions where the size of an ethnic minority exceeds 10 percent.
Apart from the Russian-majority regions affected by this law, Hungarian, Moldovan and Romanian also lost their status as official languages in several towns in Western Ukraine.
Polish Foreign Minister Radoslaw Sikorski said Ukrainian deputies were wrong to cancel the law, while European parliamentarians urged the new government to respect the rights of minorities in Ukraine, including the right to use Russian and other minority languages.
Konstantin Dolgov, the Russian Foreign Ministry's commissioner for human rights, was far more damning in his criticism.
"The attack on the Russian language in Ukraine is a brutal violation of ethnic minority rights," he tweeted.
Out of some 45 million people living in Ukraine, according to the 2013 census, some 7.6 million are ethnic Russians. Leaders of several predominately Russian-speaking regions have said they will take contr
You can share this story on social media: