Ukrainian opposition rejects govt proposal, talks to continue
After consulting protesters on Independence Square, leaders of the opposition rejected the government's terms that evolved from the Thursday negotiations. They promised to continue talks and keep violence in check.
Read RT's timeline of Ukrainian clashes.
Leader of the nationalist Svoboda opposition party, Oleg Tyagnibok, explained the terms proposed by the government during more than four-hour negotiations and asked the protesters whether they were ready to accept.
During the negotiations, Ukraine's President Viktor Yanukovich proposed to stop the use of force, release all those detained during mass riots on Grushevskogo Street, and work out reduced penalties for those who were already arrested in exchange for the rioters leaving the area in central Kiev.
After a public vote at the square, the majority of the protesters refused to accept the government's conditions, according to the Svoboda party website. Opposition leaders agreed with decision of the demonstrators, urging them to maintain discipline and order.
"Solely a peaceful protest. Keeping our defense and not a step back. I am asking everyone - keep the discipline, order and responsibility," Batkivshchyna opposition leader Arseniy Yatsenyuk told the crowd. Yatsenyuk also proposed to expand the Independence Square protest area by a few blocks, to Olginskaya Street.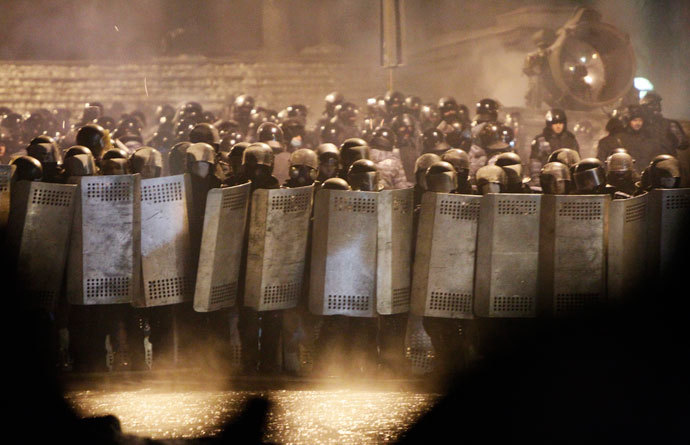 The opposition is set to continue talks with the government tomorrow. A ceasefire is in place until Friday morning.
After consultations with the opposition leaders, protesters began building new barricades by the "Khreschatyk" metro exit on Independence Square. Yatsenyuk and Tyagnibok are taking part in the process.
Earlier, Udar Party leader Vitaly Klitschko told demonstrators in central Kiev that Yanukovich and head of the Interior Affairs Ministry Vitaly Zaharchenko are ending all use of force and preparing to announce the release of all those detained on Grushevskogo Street.
People are chanting REVOLUTION as opposition leaders speak
— Alexey Yaroshevsky (@Yaro_RT) January 23, 2014
The statement was followed by Zaharchenko saying that police will not take any action against the rioters on Grushevskogo Street if they leave the area.
He also added that there will be no forceful action against protesters on Independence Square. "We have always advocated a peaceful settlement of the situation. Ukrainian people can solve complex conflicts and have shown that before. I hope reason will preside over the emotions on both sides and the standoff will finally be over," Zaharchenko said.
When speaking to protesters Klitschko said: "The whole process is prolonging, this is only the first round of negotiations. We won't stop until president steps down."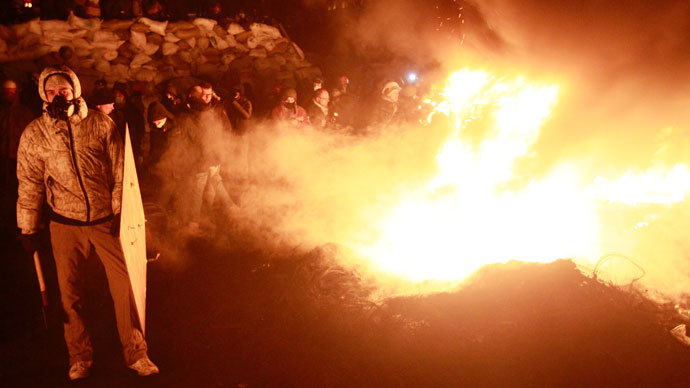 Rioters chanted "Liars!" at opposition leaders as they were being told the results of the talks at Independence Square in Kiev and booed the message.
Protesters began lining up behind barricades and burning tires as soon as the talks were over.
Yatsenyuk said the likelihood of the bloodshed ending is very high, local media reported.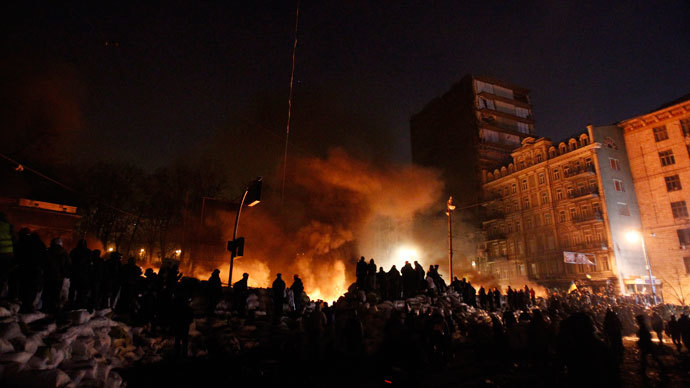 Following the negotiations, justice minister Elena Lukash stated that the opposition has refused for the second time to criticize the rioters' violent behavior in central Kiev.
She added that opposition leaders have also remained quiet on violent attacks against local administration buildings in several other western cities that took place on Thursday, Unian news agency reported.
"It is not important what you lived for, it is important what you die for," famous Russian blogger Ilya Varlamov, who is currently in Kiev, quoted rioters as saying.
On Thursday, Kiev authorities said that 71 people were detained following mass riots on the Grushevskogo Street.
Clashes spill beyond Kiev
Anti-government unrest in Ukraine spilled beyond the capital of Kiev on Thursday as the government held talks with opposition leaders.
Rioters began violently attacking local administration buildings in other regions of the country, mostly in the west, attempting to force local governments out of office.
Around 2,000 protesters took over the local administration building in the western city of Lvov, telling the region's governor that they are taking power into their own hands.
Video of protesters storming Lvov governor's office:
Governor Oleg Salo was forced to sign a resignation letter which stated: "I ask to be freed of my duties." He later retracted his statement, saying it is invalid since signed under pressure.
He's a letter of resignation from Lviv governor that he was forced 2 sign in office occupied by #Euromaidan-@ZaxidNetpic.twitter.com/mEg3pzkMry

— Maxim Eristavi (@MaximEristavi) January 23, 2014
Rioters also stormed governors' offices in other western cities, including Zhytomer and Rovno. Another administration office was violently taken over by rioters in the western town of Ternopol.
Ukraine's Internal Affairs Ministry has opened a criminal investigation into the attack in Ternopol.
Video of protesters stormingZhytomer'sadministration building:
Police were only able to fight off rioters in the town of Cherkassy, located southeast of Kiev. A group of several hundred anti-government demonstrators tried to break a police cordon outside the administration building, managing to break the glass on the front door.
Video of protesters storming Cherkassy's administration building:
You can share this story on social media: