Ceasefire in Ukraine: Barricades doused out, violence an inch from reigniting
A tense ceasefire was announced in Kiev on the fifth day of violence, with radical protesters and riot police holding their position. Opposition leaders are negotiating with the government, but doubts remain that they will be able to stop the rioters.
Read RT's live updates from Ukraine.
A 'quiet period' has been negotiated between police and opposition activists until 8pm local time (18:00 GMT), opposition leader Vitaly Klitschko said.
He promised he will be in Grushevskogo Street by the end of the ceasefire to report to the protesters on the meeting he and other opposition leaders are to have with President Viktor Yanukovich. The protesters promised to restrain from violence.
Eyewitnesses reported that the radical activists indeed stopped pelting police cordon with stones and firecrackers, which they had done for hours. Footage from the scene shows white steam clouds rising from where barricades of tires were previously burning.
Klitschko said police will not use stun grenades during the truce.
The meeting with the president will focus on the opposition's demands to cancel a package of laws, which they see as dictatorial and draconian, Klitschko said. He added he will be demanding the resignation of the cabinet of ministers and an early presidential election.
"The chances are small, but they exist," he said.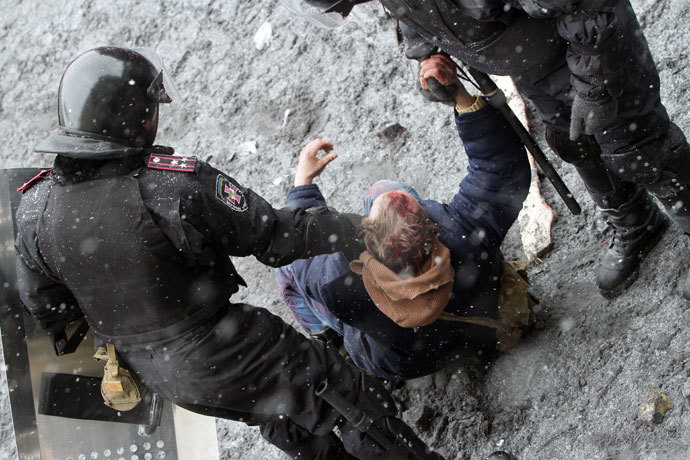 The previous round of negotiations on Wednesday failed to produce any tangible results. After this, the opposition threatened "to go on the offensive", while the government recommended them "to be more modest in their ultimatums."
It is not clear whether the talks, even if successful, will be enough to stop the rioting activists. Previously they defied the moderate opposition leaders, including Klichko, who was doused with a fire extinguisher on Sunday, as he was trying to stop rampaging radical fighters from attacking police officers.
Protesters remain in Grushevskogo Street, the scene of a days-long intensive confrontation with "radical anti-government activists" in the vicinity of the Ukrainian parliament building. Rioters were burning tires, smashing up streets and erecting barricades throughout Wednesday night and Thursday morning.
Throughout the evening, police have been holding their line, attempting to put out fires with water cannons. After four days of protests, the center of the Ukrainian capital continues to resemble a warzone, with smoke, barricades, and debris all around.
Former Ukrainian president Leonid Kravchuk said he is grateful for the patience that police officers and the Berkut unit have shown while confronting rioters on Grushevskogo Street.
"I am grateful to the guys and Berkut, who are standing there now. I do not condone nor approve of the fact that they cleared out the students on November 30, although the right thing to do would be to criticize the person who gave out the order," Kravchuk said in a Forbes opinion piece. "Now they are going through an incredible challenge: being beaten up, having stones and burning mixtures thrown at them, and they stand there and endure. Not a lot of countries have military who would tolerate such a treatment in a similar situation."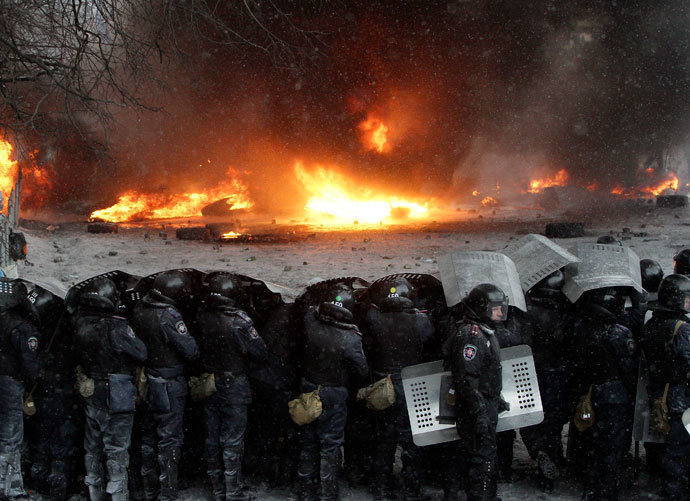 Wednesday's clashes between rioters and police intensified in the afternoon after riot police cleared Grushevskogo Street.
Footage from the Ukrainian capital showed hundreds of police officers using tear gas, rubber bullets, and stun grenades against the protesters, in what is believed to be the largest dispersal to take place since the latest outbreak of violence began. Some clashes involved policemen snatching individual rioters from the crowd and brutally beating them.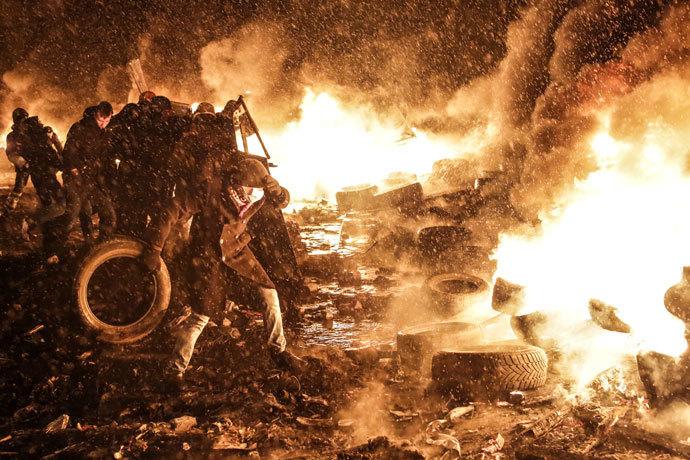 Demonstrators responded with an intense barrage of stones and Molotov cocktails, briefly disrupting police advancement. Berkut special police forces were forced to retreat due to heavy smoke from burning tires.
Two protesters have been killed and hundreds of others wounded during the past four days of clashes. Almost 200 officers have sustained injuries.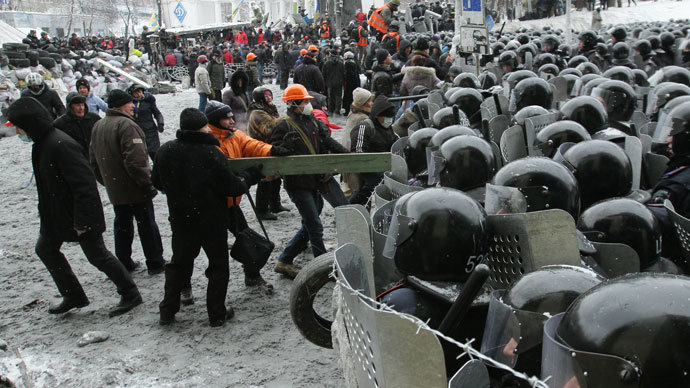 Shocking footage showed rioters armed with sticks and flares attacking cordons of security forces surrounding government buildings. Donned in orange helmets, the protesters threw stones, debris, and Molotovs directly at police.
Ukraine's Ministry of Internal Affairs published a video showing a group of officers being suddenly attacked from behind a fence on Monday.
Petrol bombs are being thrown in the middle of the cordons, settling police uniforms on fire.
As tensions continued to run high in the violent standoff in Kiev on Wednesday, some police officers were seen throwing Molotov cocktails at crowds of protesters.
Ukraine's Prime Minister Nikolay Azarov said on Wednesday that police were not given any additional instructions on the use of force against the protesters. Conversely, procedures now in place ensure the minimal use of force against only the most violent rioters. "Instructions given to law enforcement authorities were simple: avoid the use of force against peaceful demonstrators, and prevent violent seizure of government buildings and institutions," Azarov said in the BBC interview.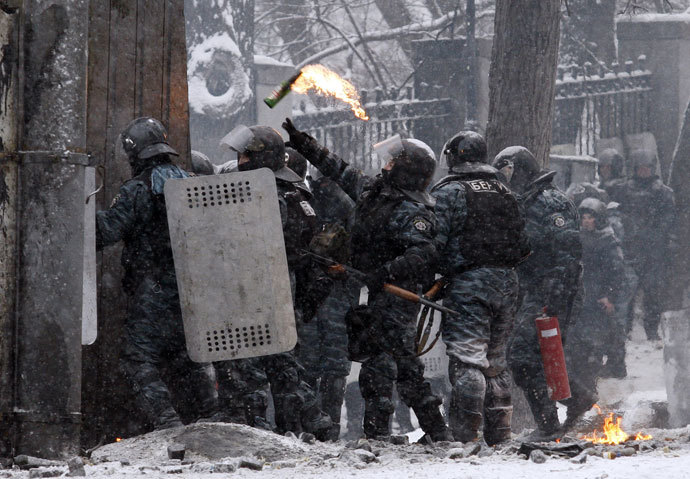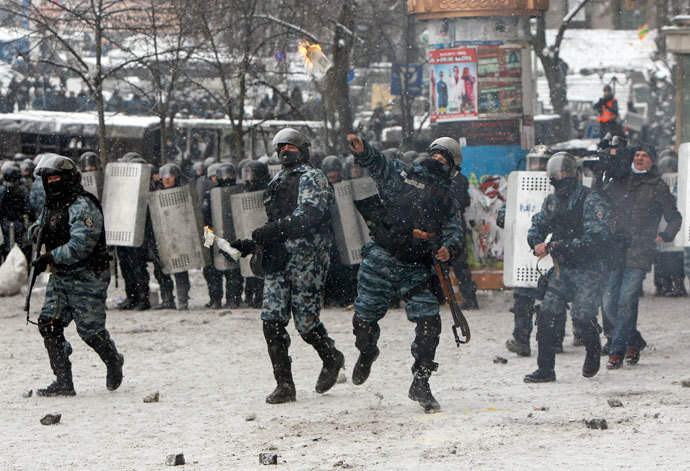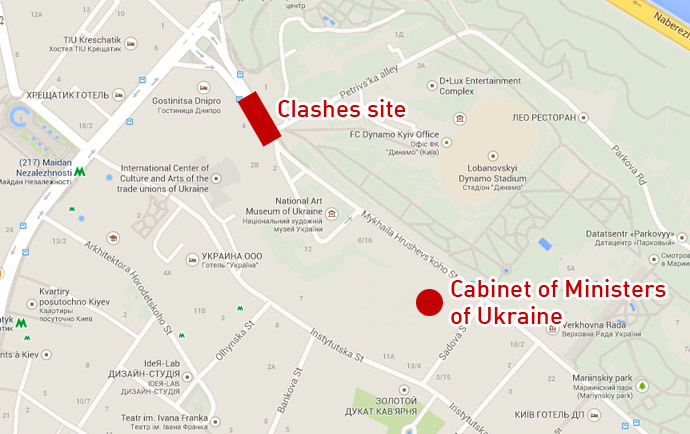 You can share this story on social media: