Alarming trend in Ukraine: Historic monuments toppled, Nazi symbols spread (PHOTOS, VIDEO)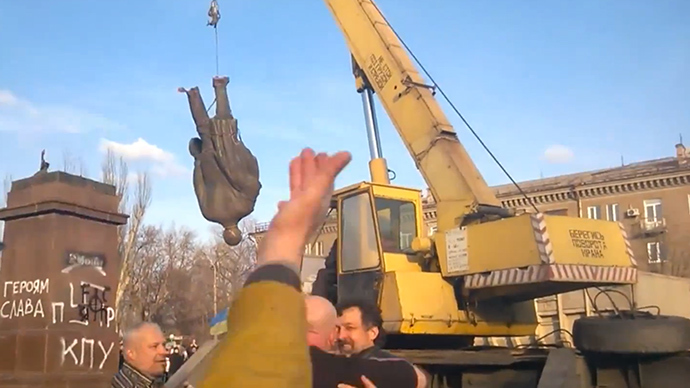 After a fortnight of violent clashes in the name of democracy, Ukraine seems to be falling into a totally different trend. Symbols of victories over Hitler and Napoleon are being torn down, while those glorifying Nazi rule are multiplying.
It started with dozens of Lenin statues getting torn down across the country, but quickly moved onto passionate salutes and questionable symbolism creeping up walls across the country.
@Yaro_RT Алексей, это у нас в городе (Чернигов)! Посмотрите, что рисуют и пишут! "Правый сектор" - с другой стороны. pic.twitter.com/CmpFdutjMo

— BRoMan (@KushRoMan) February 23, 2014
While the world's attention is focused on Kiev's Independence Square, heavy machinery moves in against one monument in Dniprodzerzhynsk.
The next demolition is of the statue of the 'Soviet Soldier' in the town of Stryi, in the Lvov Region - despite thousands of Ukrainian soldiers having died there, protecting their motherland from the Nazi occupation.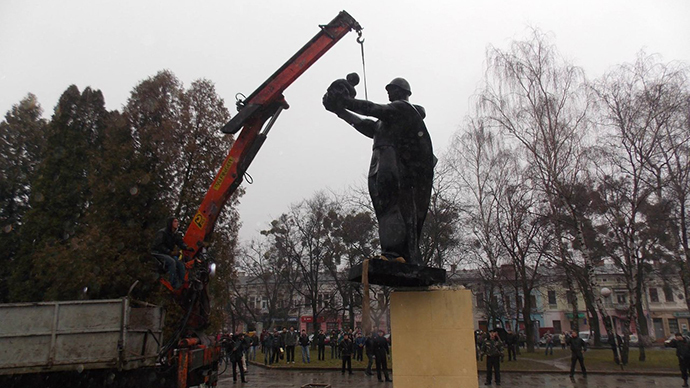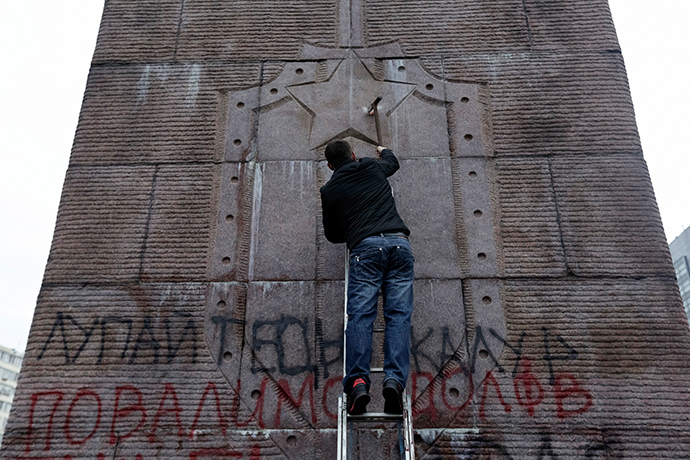 It was erected in 1965 as a companion piece to two other objects: an obelisk with WWII engravings and the Eternal Flame over the tomb of the Unknown Soldier.
The toppling craze reaches even the legendary Russian commander, who fought Napoleon, Field Marshal Mikhail Kutuzov. His victory must have obstructed earlier chances of EU integration, so the Western city of Brody did away with the monument.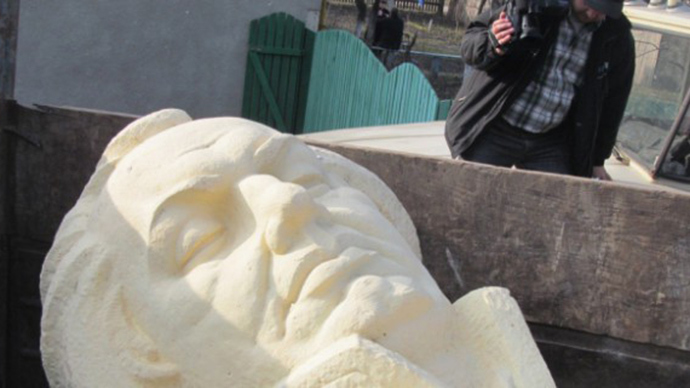 It remains to be seen what will replace the Soviet star that adorned the Ukrainian parliament building for the better part of a century.
Exit Communism. Enter Nazism?
@LatuffCartoons, media reported that central office of Com. Party of Ukraine in Kiev was captured by nazi militants pic.twitter.com/R1d22BhPzp

— Dmitry Vinokurov (@Gim6626) February 22, 2014
Nationalists' symbols seen on many "soldiers of the revolution" as well as numerous walls across Kiev. The Neo-Nazi Wolfsangel, a sign used by several divisions of the SS during World War, can be easily spotted.
The reversed horizontal Wolfsangel is an official symbol of Ukraine's Right Sector, which has been one of the most active forces in Ukraine's recent unrest.
правый сектор pic.twitter.com/vNIvuea4r2

— Кумкин Олег (@Sham5555588) January 20, 2014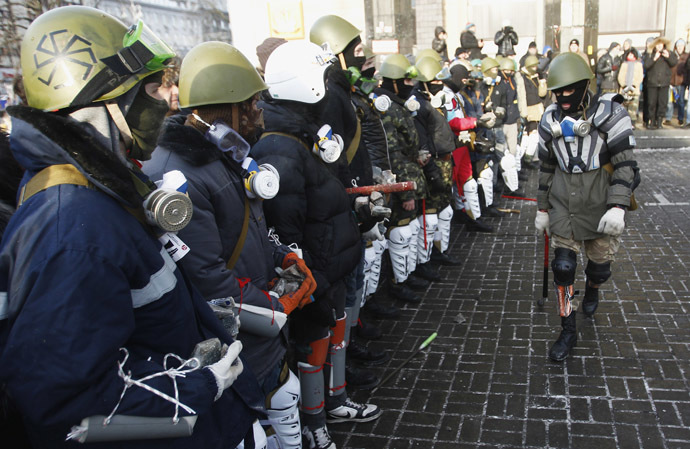 The Right Sector even has a YouTube channel, where they feature a lot of videos - like this one where a masked group of nationalists vandalize the office of the Party of Regions.
Nationalists post banners across the capital calling on others to join their organizations.
The worrying question is: Will Ukraine salute back?
You can share this story on social media: