Kiev allows police to use firearms, demands armed rioters lay down weapons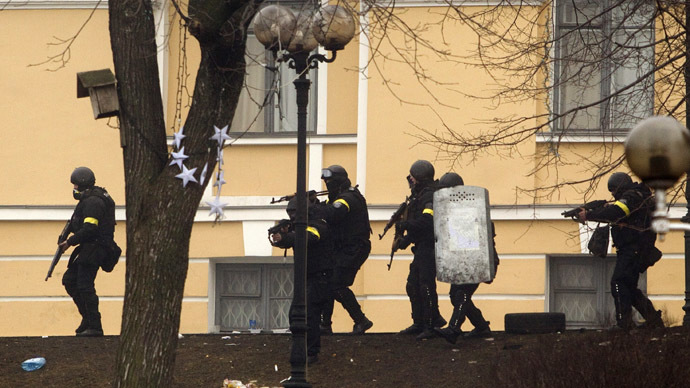 Ukrainian Interior Minister has signed orders allowing security forces to use firearms in mass riots. The move comes after three more police have been killed by gunfire and more than 100 injured in shootouts since Tuesday, according to the Ministry.
Follow RT's LIVE UPDATES
"As part of the work of the antiterrorist center of the Security Service of Ukraine, I have signed the respective orders – the law enforcers have been handed combat weapons, which will be used in accordance with the law of Ukraine," Interior Minister Vitaly Zakharchenko said in a statement.
Zakharchenko then addressed the armed rioters, demanding that they lay down their arms.
"The Interior Ministry demands that the extremists voluntarily lay down their weapons and return to peaceful protesting. The leaders and representatives of the opposition, who are able to make a sober estimate of the situation, must disassociate themselves from the radicals and must not support them any further," the minister stressed in a statement published on the Interior Ministry website.
According to the Ukrainian law, police can use firearms "to protect citizens from attacks posing danger to life or health, to rescue hostages, to counter life-threatening attacks on police officers and members of their families," as well as to thwart attacks on homes, government buildings or specially protected sites, Zakharchenko said.

Police are also entitled to use firearms to free seized government buildings and kidnapped law enforcers, he added. Rioters have seized 67 police officers, according to the Interior Ministry.
"During extremist attacks on law enforcers, 67 troopers were captured. So far, nothing is known regarding the state of their health and their fate," the ministry said in a statement.
Earlier on Thursday, the Interior Ministry reported that some of the law enforcers in central Kiev have been allowed to use firearms in self-defense after gunmen opened fire at the police from windows of a building.
"On February 20, from the windows of Kiev conservatory, unknown gunmen opened fire at law-enforcement officials. Aiming to save lives and the health of the security forces, it was decided to relocate the troops to safer spots and according to the current legislation, to use firearms as self-defense," the Interior Ministry said in a statement.
Eight interior troops and 12 policemen received gunshot wounds in the shootout, according to police.
On Thursday alone, at least three police officers were killed, 50 sought medical help and 30 of them had gunshot wounds, according to the Interior Ministry's press service.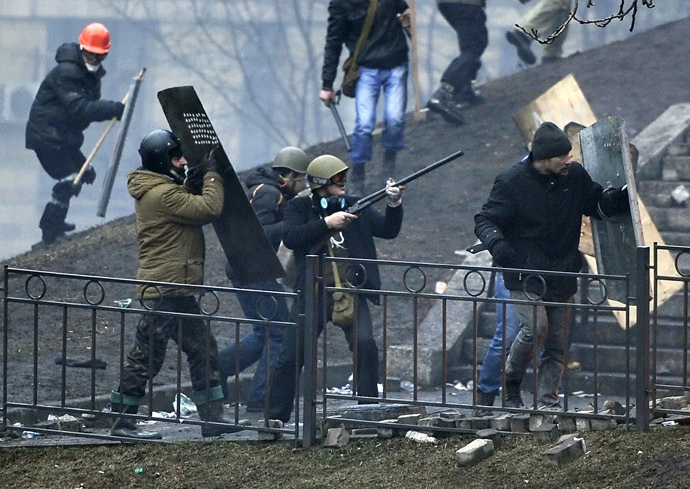 More than 500 law enforcers have been injured since the start of violent clashes on Tuesday, 108 of them were shot, and 63 are in a serious condition, the ministry stated.
The number of people killed in the Kiev riots topped 64 on Thursday, according to official estimates. Most victims on both sides of the conflict were killed by gunfire, according to doctors.
Meanwhile, media reports citing the opposition's hospital sources claimed that more than 70 people have been killed on the rioters' side on Thursday alone. Graphic footage filmed by RT's Ruptly agency has shown dead bodies delivered to the St. Mikhail Monastery. Reports said a makeshift morgue has been formed at a hotel near Independence Square (Maidan).
Watch more dramatic footage from the embattled Ukrainian capital
You can share this story on social media: