Mob lacerated captured police officer in Kiev
A bleeding and insensible police officer has been refused medical treatment in the insurgent's camp in central Kiev, according to a video that has emerged. There are 10 police officers among the 26 victims of Kiev's latest unrest.
A full version of the video shows rebels taking a captive law enforcement officer through a crowd. Despite loud calls not to use violence against the serviceman from Berkut, the special police task force, many enraged rioters struck out at the defenseless serviceman.
The next scene taken in a medical tent shows an unconscious officer covered with blood - his eye has been poked out. According to the Ukrainian Pravda news outlet, the officer's hand was also chopped off.
Somebody shouts that the man is a captured police officer and calls for a stretcher to take him away. An individual purported to be a local medic says that the officer doesn't deserve an ambulance.
The uneasy truce, reached in Ukraine after overnight talks between the president and the opposition, might be only the calm before the storm. The far-right wing of the Ukrainian opposition refused to observe the truce.
Ukraine's Ministry of Interior has reported that during the unrest in western regions of the country, radical activists stole approximately 1,000 Makarov pistols, over 170 Kalashnikov assault rifles, machine-guns and sniper rifles, and all this along with 18,000 bullets of various calibers. So far police have managed to retrieve only 17 handguns.
This deadly bout of unrest prompted Ukraine's security forces to start a full-fledged counter-terrorism operation.
The Ministry of Interior reported the arrest of 58 rioters, with 10 more waiting for court decisions on criminal charges.
The worst situation and greatest loss of firearms came in the western city of Lvov, where police headquarters, the court house and other state buildings were ransacked and set on fire.
"Police are operating in manual mode, and practically all communications have been destroyed. The Prosecutors office can't carry out its functions because all criminal databases have been destroyed (by rioters), we have returned to 1945," said the head of the regional police force, Aleksandr Rudyak.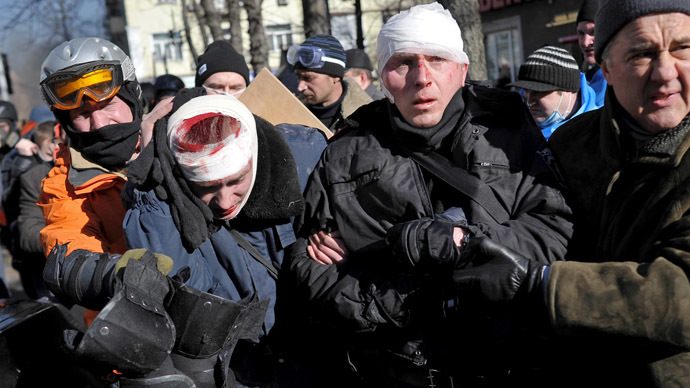 Although police have repeatedly stressed that law enforcement is not armed with live munitions, some of the 18 rioters that died in clashes were killed with firearms.
On Thursday morning a sniper opened fire with live rounds at law enforcement in downtown Kiev, wounding 23 officers, the Ukraine's Interior Ministry told Interfax news agency. Allegedly, the shooter, who was hiding on the roof of the conservatory building, was later captured by activists, Interfax reported.
Watch more from RT's Aleksey Yaroshevsky report
You can share this story on social media: