Human rights violated by Ukraine's coup-appointed govt – European NGO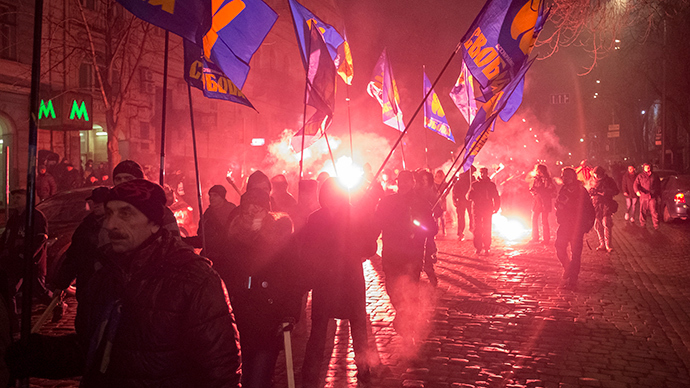 The new government in Ukraine is violating human rights and oppressing national minorities, a Poland-based NGO said, adding that the actions of the Maidan leaders would be considered illegal in most EU states.
Mateush Piskorski, a Polish MP and head of the European Center for Geopolitical Analysis, said: "The dominant political forces who participated in the so-called Euromaidan" are calling "for major violations of human rights, mainly to violations of the rights of national minorities."

Piskorski told Itar-Tass that his organization sent several groups of experts to Ukraine during the unrest.

They interviewed the protesters and gathered all sorts of materials, including leaflets distributed by the Maidan activists in the streets.

"It's not hard to detect calls for incitement of ethnic hatred [in those materials]," the Polish MP said.

According to the data gathered by the observers, representatives of national minorities, Hungarians in particular, do not feel safe under the new authorities in Ukraine, Piskorski said.

"We also heard certain anti-Semitic slogans predominating at Maidan [in Kiev]," he added.

Piskorski said that Ukraine is engulfed in a wave of political repressions, which are aimed not only against the representatives of the Party of Regions' ousted president, Viktor Yanukovich, "but other political parties and associations, for example, the Communists."

"We've have heard a lot about cases of physical attacks on representatives of the parties, which are in opposition to the new government," he said.

Piskorski said that the main political powers which staged the Maidan, "would've been labeled as neo-Nazi or neo-Fascist in any mainstream civilized European state."

"Those are the forces, whose activities would most likely be banned in most of the EU states," he said.
Since the ousting of President Yanukovich on February 22, Ukraine's new rulers have many times proven that Russia's warning to the West about the hard consequences of supporting the radicals are far from being groundless.

In one of the most outstanding incidents, presidential candidate Oleg Lyashko abducted a local pro-Russian MP in the Lugansk Oblast, with the man being handcuffed and abused.

Another hardcore nationalist currently making waves in Ukraine is Aleksandr Muzychko, who went on a rampage against the authorities in Rivno Oblast, lashing out at a local prosecutor and threatening the regional parliament with an AK-47.

On Wednesday, the Lugansk office of the Party of Regions issued a statement, demanding an end to psychological terror and political persecution of its members by the new authorities.

Those who seized the power in the country by force have "unleashed a shameless cleansing policy against all dissidents," the statement said.

According to the Party of Regions, "armed thugs freely ride around the towns and villages, intimidating the population. The sense of impunity and support from some MPs prompts the creators of the 'new order' to urge the people in the southeast regions of Ukraine to humbly surrender to the winners."
You can share this story on social media: