Ukraine: crisis far from over?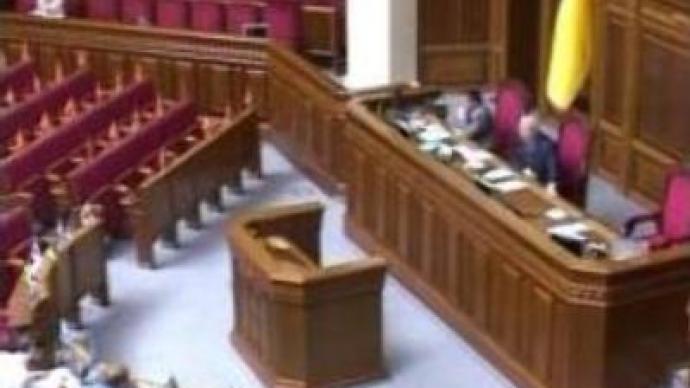 The Ukrainian parliament has failed to adopt laws, needed to hold early elections. It missed a deadline on Wednesday to pass the necessary legislation to hold early parliamentary elections, set for September 30.
While tensions have eased between Ukraine's President Viktor Yushchenko and Prime Minister Viktor Yanukovich, the deputies continue grilling each other on a wide array of laws – how to finance an early vote, who is in charge of the courts and what to do with 7 MLN migrant Ukrainians not registered in electoral lists abroad.The opposition loyal to the President was also pushing for an imperative mandate or instruction, meant to tie the deputies to the parties. Viktor Yushchenko fired the Rada in April for the practice of switching sides. But the governing coalition says they are against handcuffing their MPs. Breaking deadlines, the parliament threatened to damage a hard-won agreement on a September date for an early vote. To give the President a legitimate reason to dissolve the Rada for the third time now, the opposition deputies threatened to resign full stop, but only after their rivals change the legislation. Small protests in front of the Rada went on throughout the day. People did not hide low expectations and fatigue. Ukraine's political crescendo will not end with adopting new legislation. The uncertainties over who's going to be the Prosecutor General or who will claim command of the interior troops are setting further divisions between the rival camps.No matter how odd it seems, three Prosecutor Generals asserted their legitimacy over this high post. Following bitter disputes with the President, the first two have appealed his decrees to fire them. And the third one still cannot enter his office because his predecessor has refused to leave.
"How can they appoint this new Chief Prosecutor is the President's order was unconstitutional? Of course, anything can happen in the President's office, and I am not even going to comment on it. I can't explain this situation, it is nonsense,"
noted Svyatoslav Piskun, dismissed Prosecutor General.Campaigners are guarding the Chief Prosecutor's Office together with the Interior Ministry police. The minister who earlier ordered the troops in to storm the building is now in hospital following a heart attack. The crisis seems to be far from over.
You can share this story on social media: