Charity begins in Syria? UK accused of abandoning refugees to violence
The British government endorsed the Syrian opposition's armed fight against the country's government, but is only willing to go that far in helping the millions of refugees the three-year-long conflict has produced.
The UK has committed 500 million pounds ($820 million) in aid to help more than 2.1 million refugees living in border camps in Lebanon, Jordan, Turkey and Iraq. Government officials were publicly describing the perils of those who fled from the war as a dire humanitarian crisis and said that Britain led the relief effort.
But David Cameron's government effectively said "no" to the UN High Commissioner for Refugees (UNHCR), when it pleaded to western countries to accept 30,000 most vulnerable Syrians for resettlement. So far 18 countries answered the call, including the US, Canada, Mexico, Australia, New Zealand and many European countries. But UK was not one of them.
London called the idea "tokenistic."
"This is abandonment. You cannot just ask people, stay where you are, we'll just give you charity. What will they do at the borders? Where will they take their children every morning?" Middle East expert Saheed Shahabi told RT.
The people the UNHCR wants relocated to safer countries are orphaned children, elderly people and women under a threat of sexual violence. For many this may be an issue of survival, as the Middle East is experiencing an unusually harsh winter.
The government insists it is doing a lot as it is to help Syrians.
"We have accepted about 1,500 asylum seekers. It is a fact that we have accepted hundreds upon hundreds of individual asylum seekers from Syria under our international asylum obligations," Deputy Prime Minister Nick Clegg told MPs.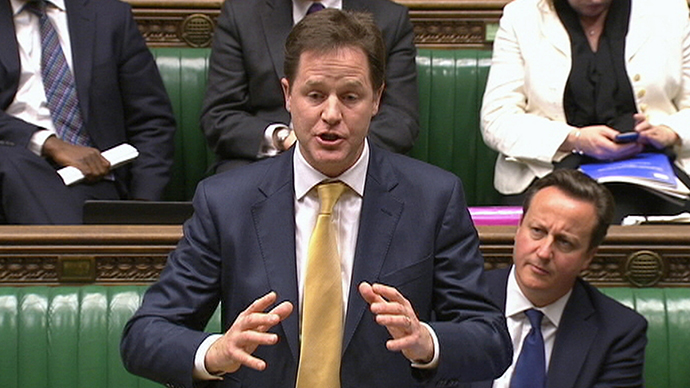 But considering the large number of refugees, some aid organizations do not see it as sufficient to justify rejection of the UNHCR call.
"It's hard to understand why they are taking this position given that this is something that we have done in the past during the problems, the conflict in the Balkans, we took in thousands of Kosovans and Bosnian refugees. I fear it may be domestic immigration considerations that's influencing them," Anna Musgrave, an advocacy officer at Refugee Council, UK's leading organization working with refugees and asylum seekers, told RT.
UK is increasingly wary of who it lets it. As 2014 drew near, the British government braced itself for an expected inflow of work immigrants from Romania and Bulgaria, as restrictions for them would be lifted.
The pressure on the government is mounting. Top British celebrities, including Refugee Council Patron Emma Thompson, Grayson Perry, Michael Palin, Vivienne Westwood and Juliet Stevenson, have written an open letter to David Cameron calling on him to accept the refugees selected by the UNHCR.
"Money is no longer enough. We must provide a safe haven to the most vulnerable. On behalf of Syrians in the UK desperately anxious about the safety of their loved ones we are asking you to help, as a father, as a humanitarian and as a world leader," the letter said.
You can share this story on social media: