UK student body hit with sex bomb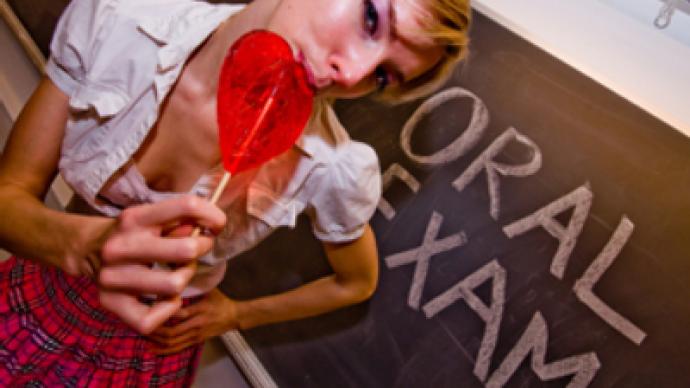 The British National Health Service has released a sexual education pamphlet for students advising teachers to stress the advantages of an enjoyable – and frequent – sex life.
Forget about the old-school tradition of reading, 'riting and 'rithmetic. According to the British National Health Service, aside from keeping up with their daily studies, students should be enjoying all the pleasures of a virile sexual life, as well. And if Jack and Jill aren't getting enough climatic moments in their free time, well, don't worry, because masturbation has been clinically proven not to cause blindness or short-term memory loss.
According to the Times of London, the newly released "Pleasure" sex education guide openly avows, "An orgasm a day keeps the doctor away." It also casually brushes aside centuries of pent-up angst over the perils associated with self-employed pleasure. That's right; the brilliant minds that put together this deviant little book recommend in a section called "An Orgasm a Day" that students should strive for "sex or masturbation twice a week" together with a healthy diet.
The steamy publication is part of a British government initiative to make sexual education compulsory, and give adults who work with young people a new way to approach the embarrassing subject. But will the brochure only prove that things always get screwed up whenever the bureaucrats get their dirty little hands on a project?
Indeed, as the London Daily Mail reported, the sex education pamphlet comes just one week after it was revealed that teenagers who participated in a British government pregnancy-prevention program were twice as likely to get pregnant as those who did not. Oops!
But the people who should know better remain adamant that they are on to something big. Roger Ingham, a professor of health psychology who authored the booklet's introduction and served as content advisor, told Children and Young People Now journal, "One of the things young people say a lot is that the sex education they get is virtually meaningless, it's too biological and doesn't relate to how they are feeling."
As may have been expected, the booklet has not registered the sort of orgiastic fanfare that it may have hoped for. Indeed, educators and parents are already petitioning the government to trash the pamphlet before the new school year starts.
"I think this is absolutely deplorable," said one mother of three school students from Sheffield, where the pamphlet was published. "Our children, they have enough to think about, with exams and peer pressure. They will have enough time for thinking about sex after their studies are completed."
Perhaps the British government is attempting to remind its youth that there is a third alternative to just drugs and rock 'n' roll?
Whatever the case may be, it will be interesting to see if the UK government allows its students to fraternize more freely on school grounds.
You can share this story on social media: