Double standard: UK exports arms to Sri Lanka despite widespread rights violations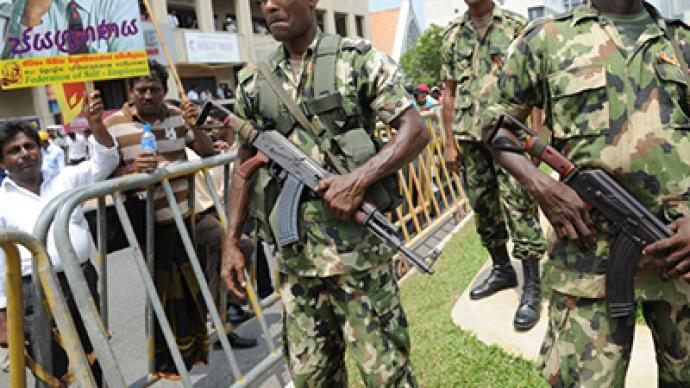 Assault rifles, shotguns and pistols worth over $3.8 million were revealed to be among the goods the UK has exported to Sri Lanka – a country accused of repeated human rights violations by the UN, and London itself.
The export report for the second half of 2012, published by the Department for Business Innovation and Skills, revealed that small arms and ammunition were sold to Sri Lanka last year. According to the report, more than $3.8 million in sales in 2012 fell into the 'ML1' category, which stands for small arms and weapons, the Campaign Against the Arms Trade said.The arms sales are made despite reports by British authorities on human rights violations committed in the South Asian country. The UK Foreign and Commonwealth Office recently said that that Sri Lanka's human rights record was marked by negative developments over the last 3 months, "especially in relation to the judiciary."A Department for Business Innovation and Skills spokesperson told the Guardian such decisions are made on a case-by-case basis: "Each assessment we make takes into account the intended end use of the equipment, the behavior of the end user, the risk of diversion and the prevailing circumstances in the country concerned. We pay particular attention to allegations of human rights abuses."News of the arms exports to Sri Lanka has prompted controversy in the UK press. Several major newspapers published critical articles on the matter. "We shouted loudest over Sri Lanka's abuses. Three years on and we're arming the regime," Jerome Taylor of The Independent wrote.Sri Lanka has been subject to scrutiny by human rights activists for a long time. Some 40,000 civilians were killed during the final stages of the civil war between the Sri Lankan army and militant Tamil separatists from the Liberation Tigers of Tamil Eelam (LTTE), which ended in 2009. Numerous rapes and extrajudicial killing were reported.The situation in the country remained highly volatile after the war ended. Some 250,000 Tamils were confined to refugee camps for months after the war.The Rajapaksa government was accused of war crimes and human rights violations, and has so far resisted an international investigation. In 2011, the UN published a report saying both sides committed war crimes against civilians. The country's government rejected the report, calling it biased.On Wednesday last week, UN High Commissioner for Human Rights Navi Pillay called on Sri Lankan authorities to allow international investigators to examine and resolve cases of drastic war crimes in the country.
You can share this story on social media: