Code Red: Defense cuts threaten UK nuclear subs
Safety on board British nuclear submarines is in jeopardy because of sweeping spending cuts, a report by the UK's Ministry of Defense (MoD) warns.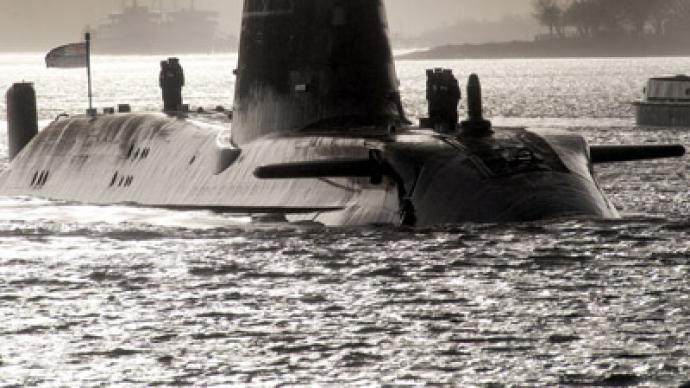 The report, which was written by Commodore David Langbridge, the head of nuclear safety at the MoD, says there is "a lack of adequate resources to deliver the defense nuclear program safely." He adds that the problem is getting worse and requires significant action. The report codes the lack of finance and staff as red, the highest level, which means "significant action might be necessary within a year."As well as a lack of finance, Commodore Langbridge raises serious concern at the lack of adequately trained staff. "The difficulties in maintaining a suitable cadre of suitably competent staff (Royal Navy, MoD civilians and industry partners) are principal threats to safety in the medium term," he said. Langbridge warns that there is a lack of submarine reactor engineers and that measures to address this are insufficient and raised concern that plans by the MoD to cut 17,000 military and 25,000 civilian jobs "would put nuclear safety at risk".The report covers nuclear safety activities in 2011 and is the latest in a number of investigations on the issue. Since 2010 the MoD has been forced to release its findings following a legal challenge made under the freedom of information law. The 2010 report also warned that the risk of a radiation leak or accident was becoming progressively worse. Langbridge found that there were a number of "incidents" in 2011, although not serious in and of themselves, could lead to an "incident of higher significance not being prevented," he said.And it raised further questions about the government's decision to extend the Trident Nuclear Missile System to save money, a move that "will present safety justification challenges".The UK MoD is responsible for 220 nuclear warheads used to arm the Trident Missile System on four nuclear submarines. The Royal Navy also sails six nuclear powered submarines which are armed with conventional weapons, with another one to come into service later this year and five more either being built or on the drawing board.There are also 17 defunct nuclear subs laid up and waiting to be decommissioned. The 2011 report also highlights a lack of funds for decommissioning. Fred Dawson, who once headed the MoD's radiation protection policy team, has accused ministers of not listening to warnings by the nuclear safety regulator. "The MoD has failed to allocate sufficient resources to nuclear safety," he said.John Ainslie, coordinator at the Scottish Campaign Nuclear Disarmament, told RT that while the UK government has just earmarked billions of pounds for new nuclear submarines, they have been cutting spending on the nuclear safety regulator.The Defense Nuclear Safety Regulator has had a 75 per cent cut in its budget, while this past June the government announced it was allocating 1.1 billion pounds towards a new facility to build nuclear reactors, specifically for submarines. A further 1 billion pounds was announced for Aldermaston in Berkshire, where the nuclear warheads are actually built, earlier in the year. At present all Trident Nuclear Missile subs are docked at a specially built base in Scotland. If the Scots gain independence in a referendum planned for 2014, the Scottish National Party has repeatedly said it will carry through with its demand that the UK remove all nuclear weapons from the country's territory.  Ainslie believes that this would spell the end of nuclear weapons in Britain as there are no other suitable places to dock Trident submarines and that "the cost and public outcry at building a new base would be too much for the government to go ahead with its plans" of replacing the nuclear deterrent,  he said.
You can share this story on social media: