Controversial UK Islamic school ruled 'dysfunctional' by inspectors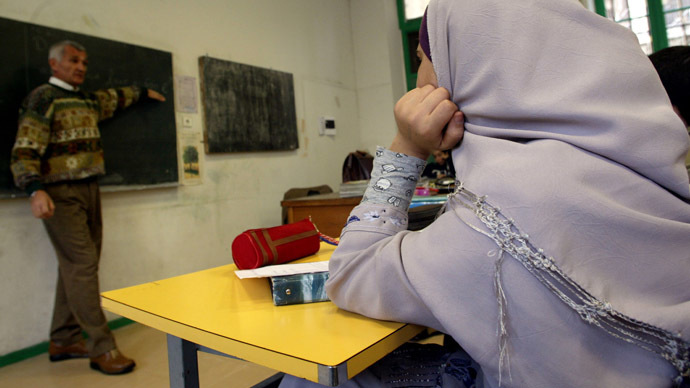 A UK Muslim free school, earlier closed for inspection over its controversial Islamic line and teaching standards, has been deemed "dysfunctional" in a post-inspection report. The document also says the school is not "adequately monitored or supported."
In its report, which was leaked to the Guardian, the Office for Standards in Education, Children's Services and Skills (Ofsted) concluded that "the school requires special measures" because it fails "to give its pupils an acceptable standard of education."

A group of five Ofsted inspectors found teachers in Derby's Al-Madinah school "inexperienced," as some of them "have not received the training and support they need." The school's governing body has been declared "ineffective."

The inspectors also noted that teachers lacking proper qualifications have been given key posts.
 
"For example, most of the primary school teachers have not taught before and the head of the primary school is experienced in teaching secondary-aged pupils only," the report said.

Inspectors gave the school the lowest ranking - "inadequate" - in every area. They described the school, which only opened in September 2012, as being "in chaos."

The inspection was initially scheduled to take place at the end of the year, but was brought forward by two months following complaints that school teachers were obliged to wear headscarves and that management enforced segregation by gender.

The Ofsted inspectors confirmed that boys and girls eat lunch "separately, taking it in turns to eat first."

While younger pupils study in mixed-gender groups much of the time, older pupils "are seated with boys on one side of the class and girls on the other," inspectors revealed.

"This school is dysfunctional. The basic systems and processes a school needs to operate well are not in place. The school is in chaos and reliant on the goodwill of an interim principal to prevent it totally collapsing," the report concluded.

The Ofsted report brings criticism against the government's education policy, namely the Free School program championed by Education Secretary Michael Gove.

Shadow Education Secretary Tristram Hunt told the Guardian: "What this report exposes is that David Cameron and Michael Gove's Free School program has become a dangerous free-for-all; an out of control ideological experiment that has left 400 children losing an entire week of learning."

A free school in the UK is a school that is free to attend, and is not subject to local authority control.