UK braces for immigration crackdown if euro collapses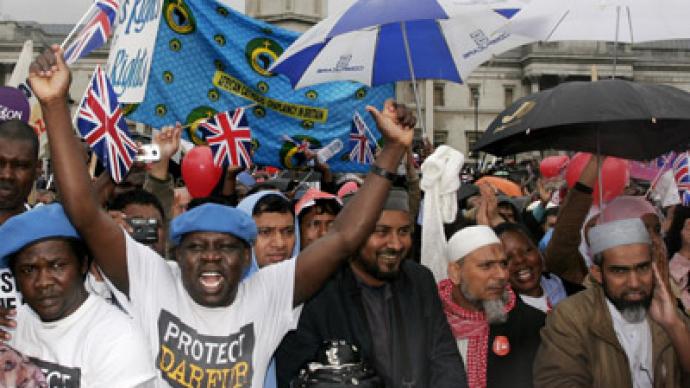 Britain's Home Office is drawing up contingency plans to restrict the number of economic migrants from Greece and other European Union nations in case the euro collapses.
­EU rules allow citizens to work anywhere in any country in the single market, including the UK, with the exception of new members Romania and Bulgaria. People looking for work abroad may see Britain as an attractive option as it is a non-eurozone country.

Home Secretary Theresa May told the Daily Telegraph that "work is on-going" to restrict European immigration in the event of financial collapse.

May didn't go into detail, but the British government has some room for manoeuvre, as rules are in place to restrict immigration in extreme situations.

May said there was no evidence that immigration was on the rise, and that it is difficult to say how the situation is going to develop in the coming weeks.

Her statement appeared to contradict official figures this week showing that net migration to the UK in the 12 months to last September stood at 252,000, more than double the government's target of fewer than 100,000 people a year.

At the same time, the number of people emigrating from Britain to work abroad has plunged in the wake of the credit crunch.

With unemployment rates running at over 8 per cent, immigration is seen as putting huge pressure on an already-saturated job market. 

The number of people unemployed for more than a year is also at its highest level since the Conservatives were last in power in 1996.

Britain's limping economy will find it tough to withstand a deteriorating situation in Europe, as figures show that output shrank by 0.3 per cent in the first quarter of 2012.
But the country's Migration Advisory Committee said EU migration had little or no impact on the native employment rate.

The number of asylum seekers entering the UK also rose in 2011, with a marked increase in applications from Libya and Syria, and the number of illegal immigrants is estimated at up 1 million.

Mrs. May said that work was underway to deny illegal immigrants access to work, housing and even bank accounts. 

"The aim is to create here in Britain a really hostile environment for illegal immigration," she said.

European governments have been preparing secret action plans if Greece descends further into crisis, which could be precipitated if there are no clear winners in next month's election.
If Greece does leave the eurozone, economists say it's likely to make matters much worse for other debt-troubled members such as Portugal, Spain and Ireland. 
British Prime Minister David Cameron appeared to cast doubt on the future of the euro in comments last week. He told MPs, "It [the eurozone] either has to make-up or it is looking at a potential break-up."