Scheng-end? Germany wants border control in free travel zone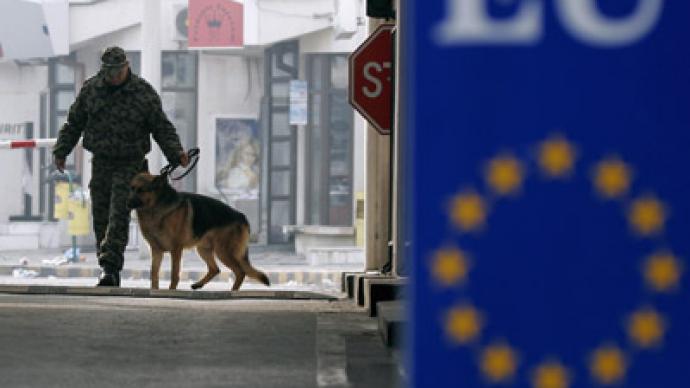 The EU's cherished Schengen free movement agreement is now at stake with its largest member, Germany, calling for the re-introduction of border controls. Greece, which contributes 90 per cent of the bloc's illegal immigrant inflow, is first in line.
Germany is calling for EU member states to be able to temporarily ban neighbors who fail to effectively tackle the illegal immigration from the Schengen area.Speaking to the national daily newspaper Rheinische Post, the country's interior minister said that while the open-border Schengen zone "means a lot for European sentiments," security should not be neglected.The minister insisted that Germany must be able to temporarily control the internal borders in order to prevent the Schengen area from becoming an entry point for illegal migration.Echoing his French counterpart Claude Guéant, Hans-Peter Friedrich mainly hinted at Greece.  Athens has long been accused of being a major gateway of illegal immigration into the EU. Since last year, the number of those seeking asylum in Europe has increased dramatically due to the mass inflow from the countries affected by the Arab Spring.EU countries have become increasingly critical of Greece's lax border controls, especially with Turkey. According to Greek police statistics, as much as 90 per cent of illegal immigrants in the EU enter the bloc via Greece's territory. In 2011, about 100,000 people were arrested for crossing the country's borders illegally.Athens has vowed to get a grip on the mass inflow and has recently announced it will open 30 detention centers on the mainland to house illegal immigrants before they are deported. The Ministry of Citizen Protection says each center will have space for about 1,000 people and serve as a holding point before detainees are sent back.A team of EU experts is expected to visit the country in June to evaluate on the ground whether it has the right to be a member of the visa-free zone. The EU immigration officials' statistics has noted the months of the Arab Spring were marked with a 50 per cent rise in illegal immigration in the EU. It spearheaded the calls for re-introduction of border controls within the union.In April 2011, France took the unprecedented move of restoring border controls with Italy after Rome granted temporary visas to thousands of African migrants. The move was latterly followed by Denmark, which set the customs check points on the borders with Germany and Sweden. In his re-election bid for the presidency, French President Nicolas Sarkozy has recently threatened he would pull France out of the visa-free zone in an effort to tackle the thorny issue of illegal immigration.
You can share this story on social media: